Annie Sloan Graphite Chalk Paint
Ok, so I might be obsessed with Chalk Painting at the moment! 🙂 Specifically Annie Sloan Graphite Chalk Paint! Love this color.
I thought I'd give our upstairs hallway console table a refresh!
I decided to try something bolder and went with Annie Sloan's Graphite. It's a slate color, and still neutral enough to work with any decor in my opinion.
The graphite lends itself really well to the shape of this piece. It's more modern-traditional and the shade was perfect.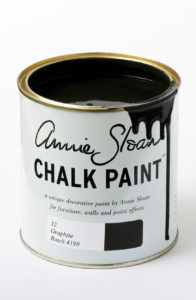 The original piece was a dark brown stain to start and there was minimal preparation required. This piece is about 10 years old and in fine condition, it just doesn't fit our decor anymore. You may have seen our Diningroom Buffet Project. It was a similar color and a compliment piece to this one. Now that we have refinished the buffet, this console table no longer matches.
I didn't want it too rustic so I just did a very light sanding on the edges of the drawers, legs, and top.  Then finished it off with some clear wax, and buffed it out.
That nice dull finish is what we're trying to achieve. It will help our chalk paint bond to the furniture
You can really see the difference here between the dark brown and graphite. It doesn't look like much yet, but once we wax and buff the finish it will be fantastic.
Voila, there it is. The final product looks great on the dark hardwood, with bright white trim and creamy walls.
What do you think? Do you like the graphite? Have you used it on pieces in your home? I would love to hear what you have done.
Check out the Annie Sloan product line here

xo Jennifer
We've used Rustolium for other projects in the past. It will work well and is easy to find on amazon. Here is a link to their Charcoal colour which is very close to the graphite we went with.