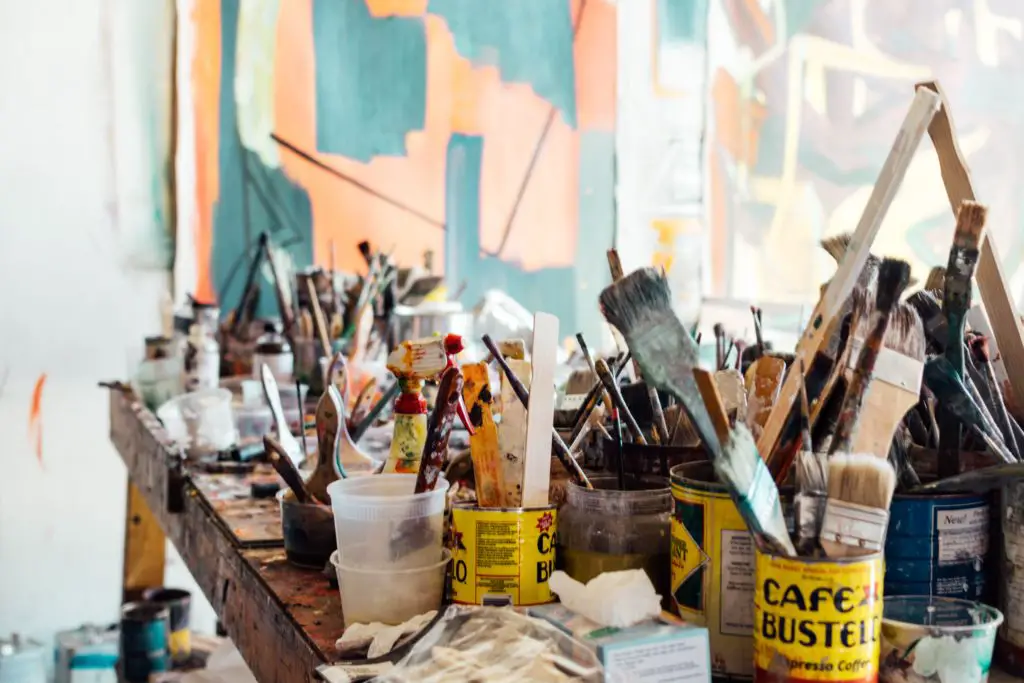 We've used a lot of different paint and stain products and colors over the years. Researching what colors to use where and what finishes work best always chews up a lot of time. It's easy to see a paint splotch on your phone or monitor, but trying to find actual examples of that color, in the wild wasn't so simple.
To simplify things for you (and us), we built this color directory, of brands, colors and finishes we have used, and links to the projects we used the product on.
Annie Sloan (Chalk Paint)
AnnieSloan.com
This Chalk Paint is nice and thick. Much thicker than some of the chalk/mineral-based paints we've used. The thick texture allows you to "pull" the paint along to create just the right patina finish in fewer coats. It also takes wax very well.

Antoinette (pink) – Annie Sloan
This soft light pink is great for accents. We used Antoinette to paint the inside of the drawers for a fun little surprise when we refinished this old teacher's desk. The desk itself we finished in Old White.
Decorating with Shabby Chic Style – Lovely Antique Desk Tastefully Refinished in beautiful old white
Graphite – Annie Sloan
Graphite is a dark beautiful charcoal tone that creates a wonderful mysterious moody feeling. After waxing, Graphite becomes more of a slate color. We used Graphite to refinish this Wood and Glass Conole table 
Annie Sloan Graphite Chalk Paint Vs. Our Beat-up Old Console Table. Will it Ever be Beautiful again?
Old White – Annie Sloan
Old white has a nice warm-off-white feel to it. Not a crisp modern white (like Pure White). It works great on antiques and takes dark wax very well for that aged patina look. We've used old white on a few projects. This teachers desk with Antoinette lined drawers is a great example of how old white looks
Decorating with Shabby Chic Style – Lovely Antique Desk Tastefully Refinished in beautiful old white
Paris Grey – Annie Sloan
Paris Grey is one of our favorite colors. Reminiscent of old french antiques, the hint of blues and oranges warm up this muddy old grey color, making it very neutral and suitable as the main color or an accent. We used Paris Grey to Refinish this old Twin Bed.
Twin Bed Refinishing in Beautiful Annie Sloan Paris Grey Chalk Paint! Perfect for a little girl's room.
Pure White – Annie Sloan
Pure White is a crisp and modern bright white tone. Great for kitchens, bathrooms, or any other ultra clean-looking project you may have in mind. We kinda broke the rules with this one, and used Pure White, on our Dining Room Buffet, then we heavily distressed it, and made it old. Don't care! Love it anyway! BREAK THE RULES. lol
Refinished Dining Room Buffet With Annie Sloan Chalk Paint in Pure White, and it's Beautiful!!
Behr (Stain)
Behr.com
We mainly use Behr wood stains on larger projects (decks, fences, sheds etc..) so we always have leftovers and tend to use them here and there on smaller projects too. Behr is very versatile and absorbs well. The color can change quite a bit depending on the wood you're finishing. Cedar and spruce will bring out more of a red tinge so look at the samples on various types of wood before making a final color selection. Behr also comes in 3 different transparencies. We've used sloid and semi-transparent stains. They have a great simulator on the website to help you decide too. You can find it here.
Cordovan Brown ST-104
I have painted or stained about 4 sheds using Cordovan Brown now. I have used a solid and a semi-transparent, on several different wooden surfaces. I've used it on decks and fence gates as well. It is a great bold brown that adds a nice deep feel to pressure-treated wood especially when it starts to age and turn grey. You'll see cordovan brown on my Shed and Car port here
Simple DIY "Carport" shed for the lawnmower
Slate SC-102
We have only recently started incorporating more darks in our projects, like browns, greys and blacks, and this slate stain in a solid was perfect for our privacy screen.
Privacy Screen for the Patio! A Simple DIY project to cover up an ugly gas meter 🙁
Benjamin Moore (Latex Paint)
benjaminmoore.com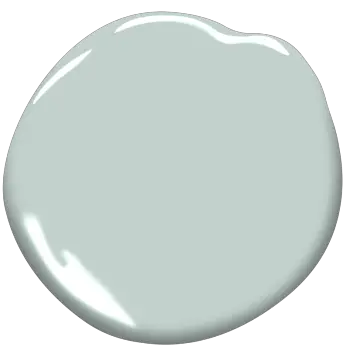 Woodlawn Blue HC-147
We have used Benjamin Moore paints almost exclusively over the last 10 years or so. The main reason is because we love our local Benjamin Moore paint store. But we have branched out recently. Benjamin Moore paint and primer mix is a real thick one coater in a load of different colors and a few sheen options. We've hardly ever had issues with this paint, other than some coverage over old mystery paint. For that, you'll want to check our Zinsser product.
Woodlawn Blue HC-147
This wonddrful woodlawn blue color reminds me of old victorian homes with white picket fences, and huge wrap around porches. We chose this color to bring a cool and calm feeling to our master bedroom. We covered over an existing dark brown with the paint and primer mix. It was almost a one coat job, but the brown was pretty dark, and we did need to do some spot coating after. 
Painting The Master Bedroom In Woodlawn Blue From Benjamin Moore. Beautiful and Tranquil.
Dixie Belle (Chalk Mineral Paint)
dixiebellepaint.com

We've used Dixie Bell Palmetto, and Drop Cloth to create a beautiful patina on this 100 year old farmhouse chair. I love this chair and I sit in it every day.
Palmetto Chalk Mineral Paint
We used Palmetto and Drop Cloth Chalk Mineral Paints from Dixie Belle on this farmhouse chair. This was our first Dixie Bell Paint Project, and we love the results.
Can Dixie Belle Paint Make Our Wonderful Old Farmhouse Chair Beautiful Again? Find out in this Chalk Paint DIY.
Drop Cloth Chalk Mineral Paint
Drop Cloth was used as a base coat for this farmhouse chair project
Fusion (Mineral Paint)-2
fusionmineralpaint.com
Fusion paints are not like the chalk, and chalk mineral paints we've used in the past. Fusion is a much thiner product that provides a very smooth finish. Typically I use chip brushes for chalk and chalk mineral paints. With Fusion Paints, I highly recommend using foam brushes and rollers to avoid any brush strokes. Fusion paints will settle very flat, and should be sealed with a shellac or lacquer. I used a Varathane Satin sealer.
Midnight Blue
We have a new exciting post coming soon, and we finally got to try out Fusion Mineral Paints. Stay tuned… Here's a hint, we used it in a bathroom
Rustoleum (Aerosol)
rustoleum.com

Rustoleum was always the typical rust paint, to me. It was good for hiding stuff. There was always an old can of "Rust-o-leum" somewhere in the shed. But this company has a whole bunch of new and improved products for everything, not just RUST!! In fact many of the other brands we've used are also made by Rust-o-leum. I'll try to identify them all. Apple Red
WOW!! I cant believe how bright and durable this paint is. We used 3 cans to spray some outdoor fabric, and its held up amazingly.
Kick Some Color Back Into Your Patio Umbrella With This Super Simple DIY
Minwax (Stain)
Minwax.com
Minwax is my go-to stain for wood furniture. I like that i can get a small enough size for my needs, and it comes in a liquid and gel. Gel stain is really easy to work with, especially when you have lots of small areas to get into, curves, and bends, or the underside of detail work. It's a wipe on wipe off application. Super Simple. Provincial 211
Provincial is a very natural, neutral color that works well on its own, but I like to use it as a base to mix the perfect tone. I used a 50/50 mix of Provincial 211 and Weathered Oak 270 to refinish this pine harvest table.
Refinishing our Family's Beautiful Custom Pine Harvest Table
Weathered Oak 270
Weathered Oak is a light yellowish clear which adds a nice natural tinge to pines and maples.  I find it a little too light for hardwoods with lots of grain, but when mixed with a slightly darker color it looks great. See Provincial 211 to see how a 50/50 blend turned out.
Varathane (Sealer/Finish)
I have used Varathane as a sealer for many projects. it works on top of stains, and I have also used it to seal mineral painted surfaces as well. For most surfaces I use a semi-gloss or Satin finish, unless its something that gets wet, like a counter top, then I'll use a gloss finish
*Varathane is a Rustoleum product
Premium Diamond Wood Finish – 2002 Satin
This harvest table was finished in Satin 2002 Varathane wood finish
Refinishing our Family's Beautiful Custom Pine Harvest Table
I have also used Satin 2002 for many smaller projects like this coat rack
DIY Coat Rack for Under $5 Bucks!
Zinsser
*Zinsser is a Rustoleum product
Available on amazon here
Zinsser BIN Shellac Based Primer
We used BIN to cover some walls in our house that were covered in a "mystery paint". Everything else we tried either didn't stick, or showed a bleed through. It's not cheap, but it works, and I honestly wasted about a gallon trying to cover up stains and smells. It works great.
We use BIN for covering up drywall stains, patches on furniture that paint doesn't seem to stick to. We had one wall in a bathroom that would not cover. It was painted is an old mint green, and even after sanding paint would still separate, like oil on water. Once I primed over the mess I made with BIN my final coat adhered well and BIN did a great job hiding the imperfections. It is costly though, so I only use it in spots if I can get away with it. A stain that shows through the ceiling for example. Prime with BIN, then ceiling paint it.