Chalk Painting Antique Desk
I thought I'd share a bit of decorating with shabby chic old white chalk paint. My hubby found a fabulous teachers desk in decent condition for a really great price. The desk fit perfectly in my daughters room!
I knew I wanted a shabby chic look and decided to paint it using one of my favs … Annie Sloan's Chalk Paint in Old White! This is, I believe their most popular colour.
This desk was a mid-tone yellow and brown Maple. It was nice, but not what I was looking for. I forgot to snap a photo of the desk, (ugh!).
Old White Antique Refinished Teachers Desk – First Coat, lets see how it goes.
To start, coat number one went on well, but there was some bleed though of the stain in some small areas, it was due to the wood tannins. Sometimes you'll notice this in the first coat. An easy fix is Shellac! Just slap it on, wait to dry and boom — all fixed!
To finish this piece it took two coats, and in some areas a bit of touch up. Check out the photos and fun details I included in this cute shabby chic little desk project.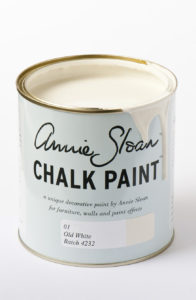 Charming key holes on these antique desks are a nice detail. Its too bad we don't have the keys
To jazz it up with a little paint surprise I did the interior of the drawers in Antoinette. How lovely is the combo of Old White and Antoinette? I adore it and was perfect for decorating with the shabby chic style I was trying to achieve.
Annie Sloan Antoinette (pink)
Beautiful light pink inside the drawers completely change this now were designing in with Shabby Chic Style
I love the wonderful light pink details inside the drawers, and lovely distressed old white finish.
And the chair turned out absolutely perfect. Lightly distressed in the areas you'd expect to see. I imagine the seat will get worn after consistent use, which will only add to the beauty 🙂
Finally, to preserve the finish and protect form wear and tear, several coats of wax were worked into the paint. this also gave a gorgeous satin glow to the piece.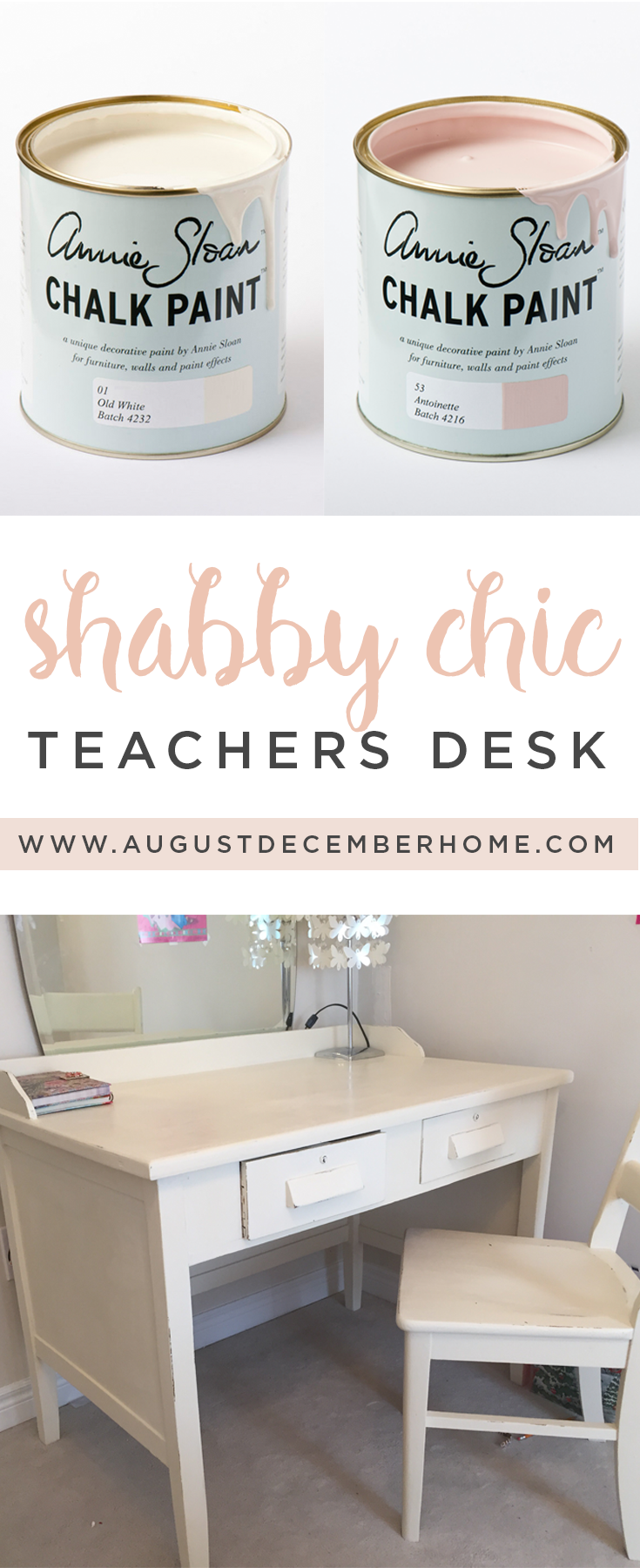 Now to head over to Jess Cathell's Blog to find some home decor inspiration for my little girl's new room
Looking for more great furniture refinishing ideas? subscribe below.