How to make your front door look nice? Our front door looks great from the outside, save for a few dents from stray road hockey pucks, but the inside of our front door was a different story.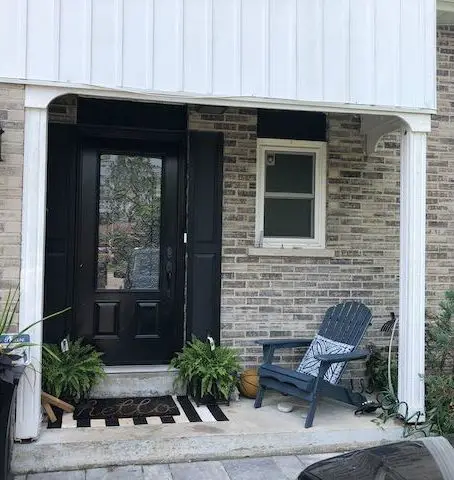 Plain and boring!! We're talking about a typical metal, insulated door with a cutout window. The previous owners put in this beautiful insert, which looks great and lets in lots of light. But the factory white paint job on the inside just wasn't going to cut it any longer.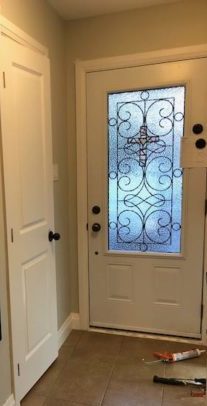 Painting a door is nothing special, here is a great video on painting techniques. I won't cover that here.
Painting a Door in Flat Black
Step 1 pick a color and paint. I chose a flat black. For 1 door you can usually cover it all with a sample size paint jar. This one is 200ml/7oz and would easily do both sides of this door. Rustoleum's flat black latex is also a good choice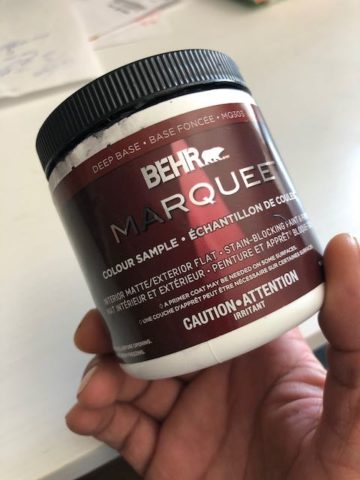 Next is masking. I don't love this part, and if I'm feeling confident I'll freehand most of the edges. But I didn't want to have to pick any paint off this textured window etching, so I masked the inside with blue painter's tape.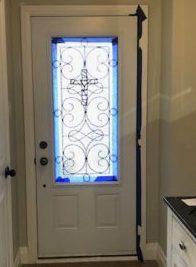 Using a small roller and a chip brush I painted the door and window frame as well as the door seam. It took 1 coat and a bunch of touchups to get full coverage. The paint doesn't soak in as it does on wood or drywall so try not to over roll or brush or the paint will "drag". Not really sure how else to describe it, kinda clumpy I guess. Anyway, less is more. Get a good coat on and let it dry, then retouch where needed. *Pro-tip – I removed the doorknob so I could paint underneath. The base color is white so every little chip or missed spot sticks out.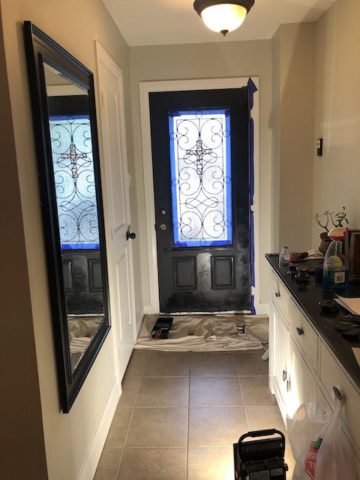 After a fresh coat of paint its looking great.
Sanding a Door Knob to get a Gold Finish
Next up, that old doorknob. I love dark knobs, but on a dark door, it was hard to see. We are also really loving gold now, so my solution was to sand the knob and door lock to the satin brass/copper finish under the "aged bronze" patina. If you have a grinder with a wire wheel on it this is really easy. You can also attach a wire wheel to a drill to do this.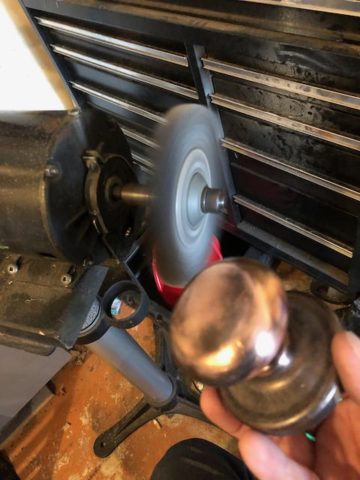 The end result is a mostly bronze colour knob, with some brass showing where there were deeper scratches. But the golden contrast on the black door is great.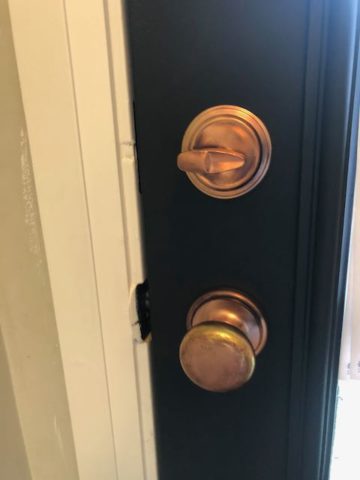 The final touch to really make this door beautiful was to fix the plastic piece that covers the weatherstrip at the bottom. This piece got a nice coat of gold spray paint, and now it looks fantastic.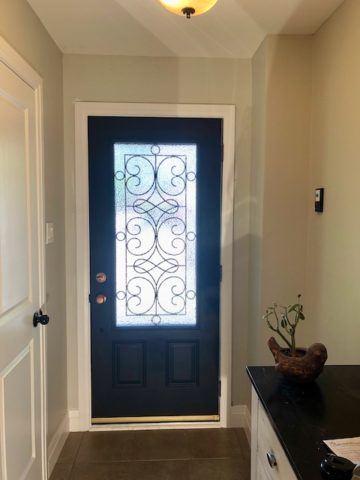 Our door is now a focal point in the hall and complements our trim work and gold accents around the house. Hope this inspires you. Not all jobs need to be big ones. This one cost me $8 for the paint sample. Everything else I already had.