Spray paint for fabrics is so popular now
Its no surprise that spray painting fabric, and everything else has become so popular. From hydro dipping shoes and clothing, to refreshing your faded outdoor furniture. Even splashing some life into old faded lights and planters. Spray Paint is a low cost and extremely versatile solution to extend the life of old and tired stuff. Did you know that lamp shades date back to the 17th century? Here is a great article on the history of lamp shades, and some beautiful shades to look at too. If you're really diggin' the lamp shade history, check out wikipedias entry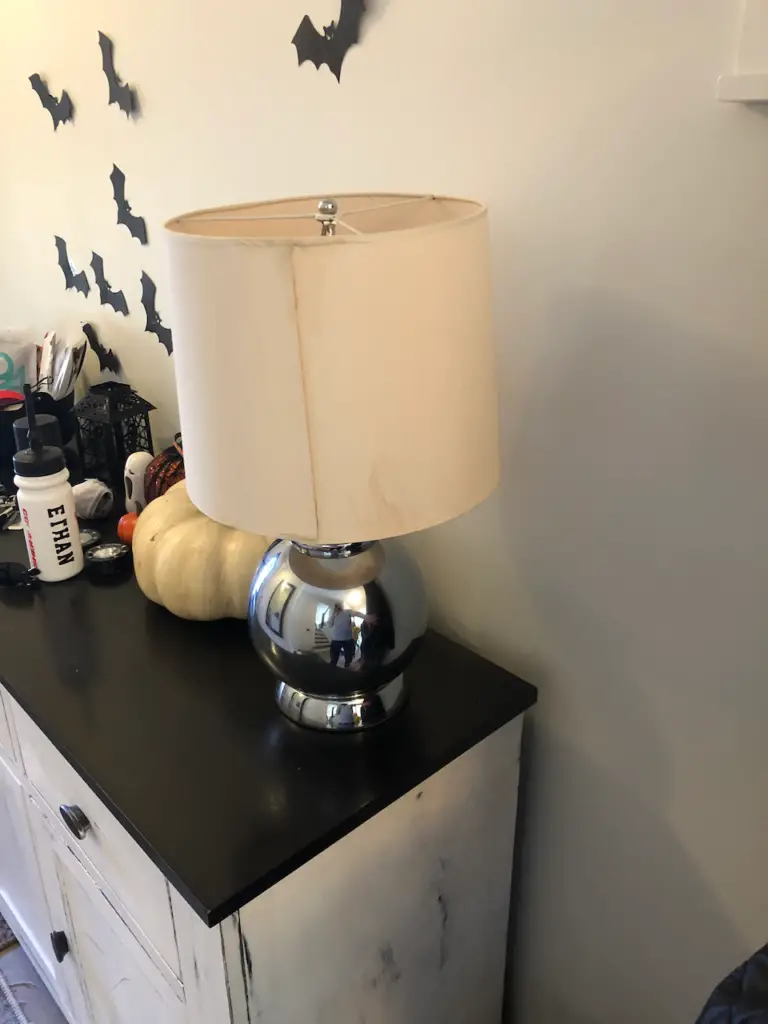 My latest fabric spray paint project is about as simple as they get. For this one all you'll need is:
Old lamp shade – Mine was broken and ugly
Spray Paint in any color you choose – I went with flat black
Hot glue gun – This is optional, I used it to repair my lamp shade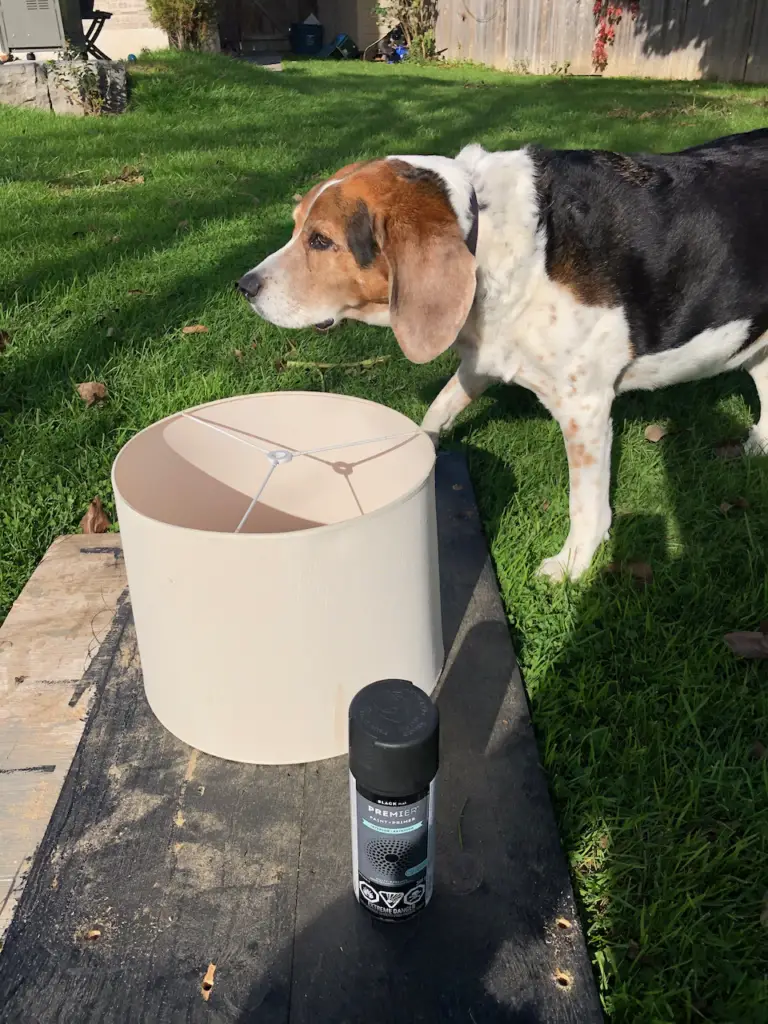 Why repair a lampshade in the first place?
Well I chose to repair this lamp shade because it was the right size and shape for my lamp, it just needed a refresh. Also, lamp shades are expensive. I don't really think they should be, but they are. Granted there are many beautiful options out there, I think a quick and cost effective up-cycle will do for me.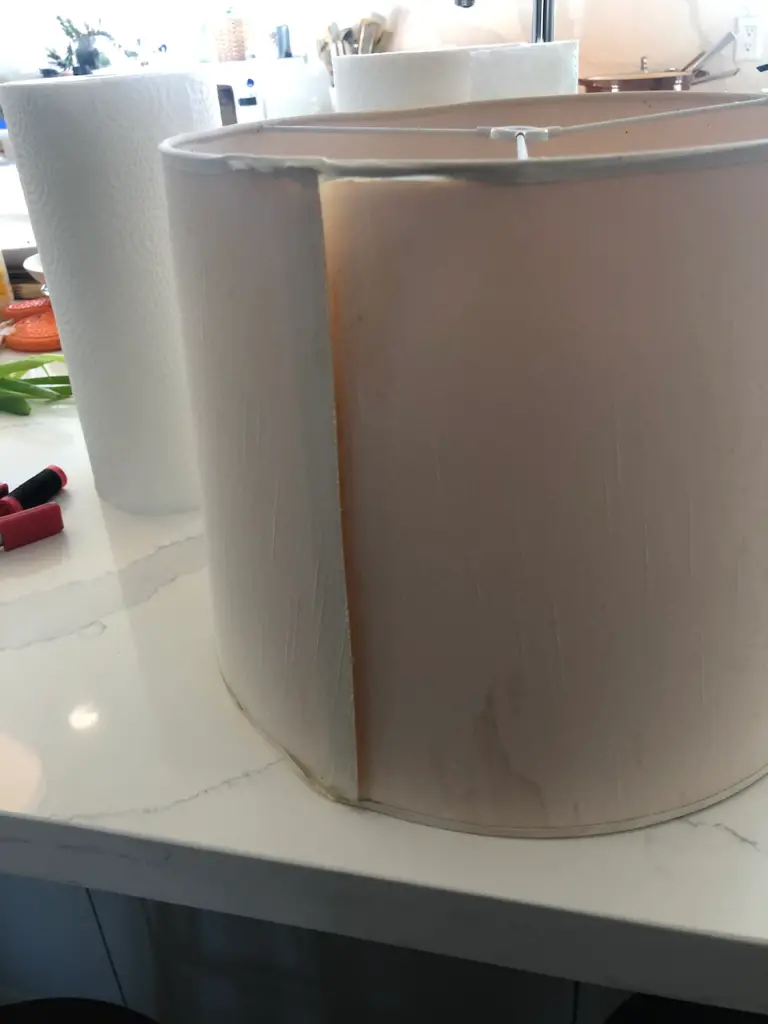 Repairing a broken lamp shade
There is no fancy science behind repairing a lamp shade. In my case, the plastic wrap around the shade had started to come apart. A little hot glue and a bit of pressure in the right spots and I was able to stick it back together. Its not perfect, but after painting it the repair wont be noticeable.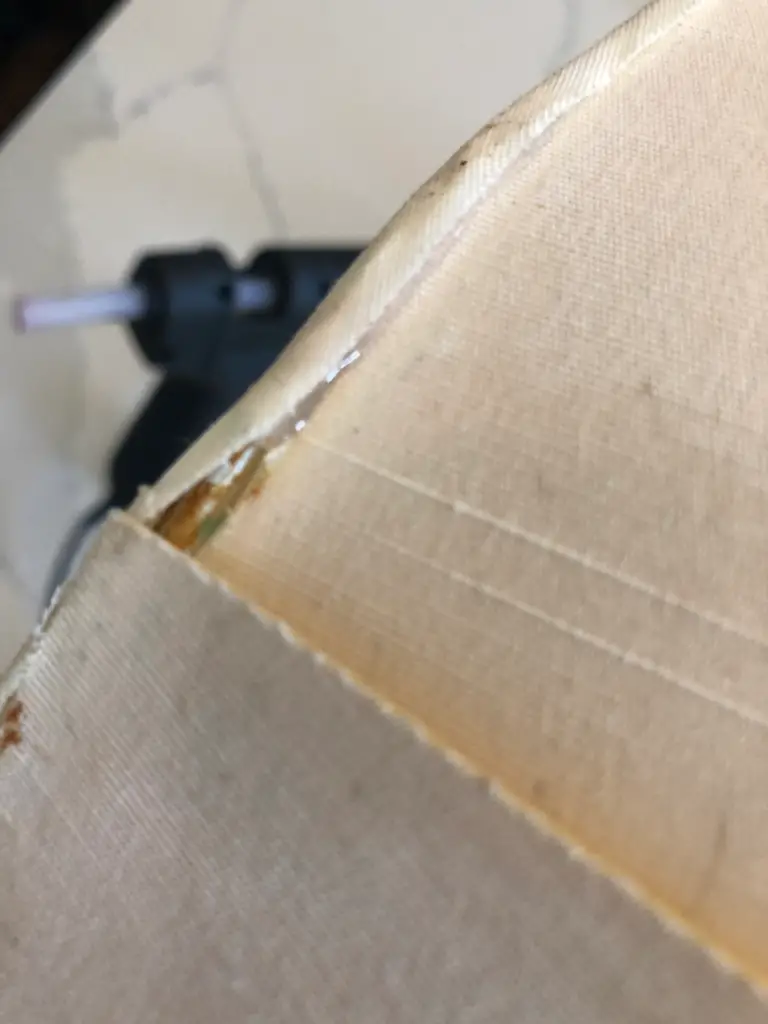 Spray Paint Fabric Lamp Shades
Again, spray painting a lamp shade is just like spray painting an other fabric. You want to keep enough distance from the material so it doesn't cause drips. Other than that, spraying multiple thin coats will provide a more consistent finish than a few heavy coats. I also find flat paint hides imperfections much better, and looks more natural on fabric.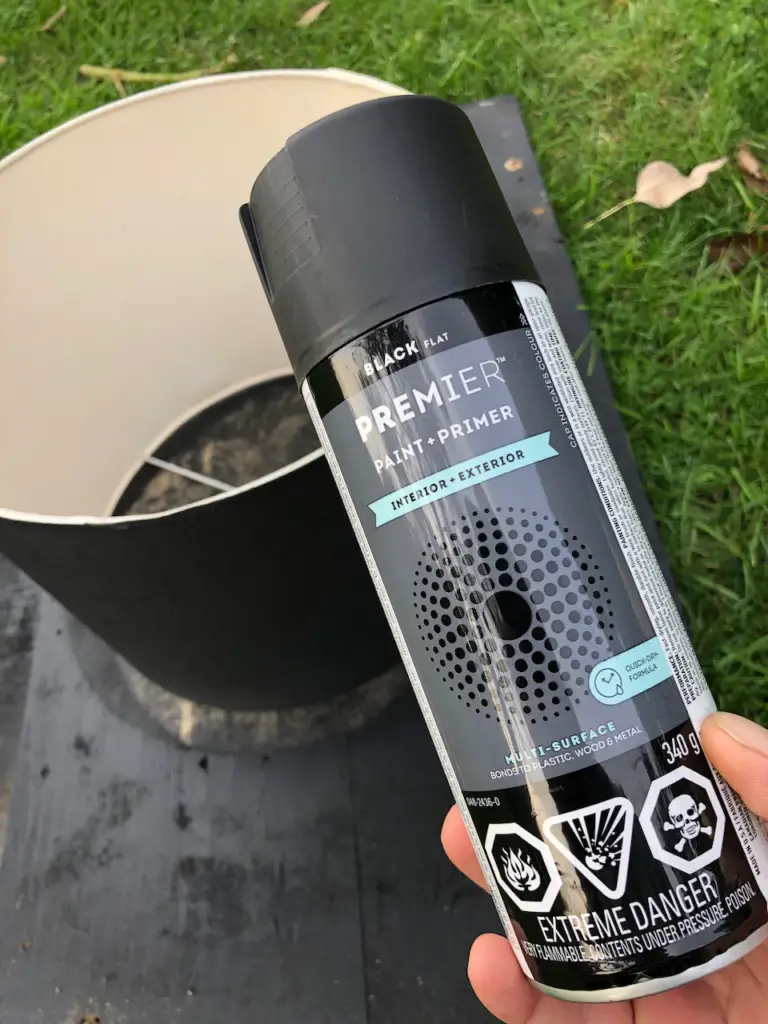 Should I paint the inside of my lamp shade?
The inside of many lamp shades are usually white. This is to help cast more light as white reflects light better than dark colors. Painting the inside of the shade will reduce the amount of light the lamp seems to produce, which may be perfectly fine depending on what you are trying to light up.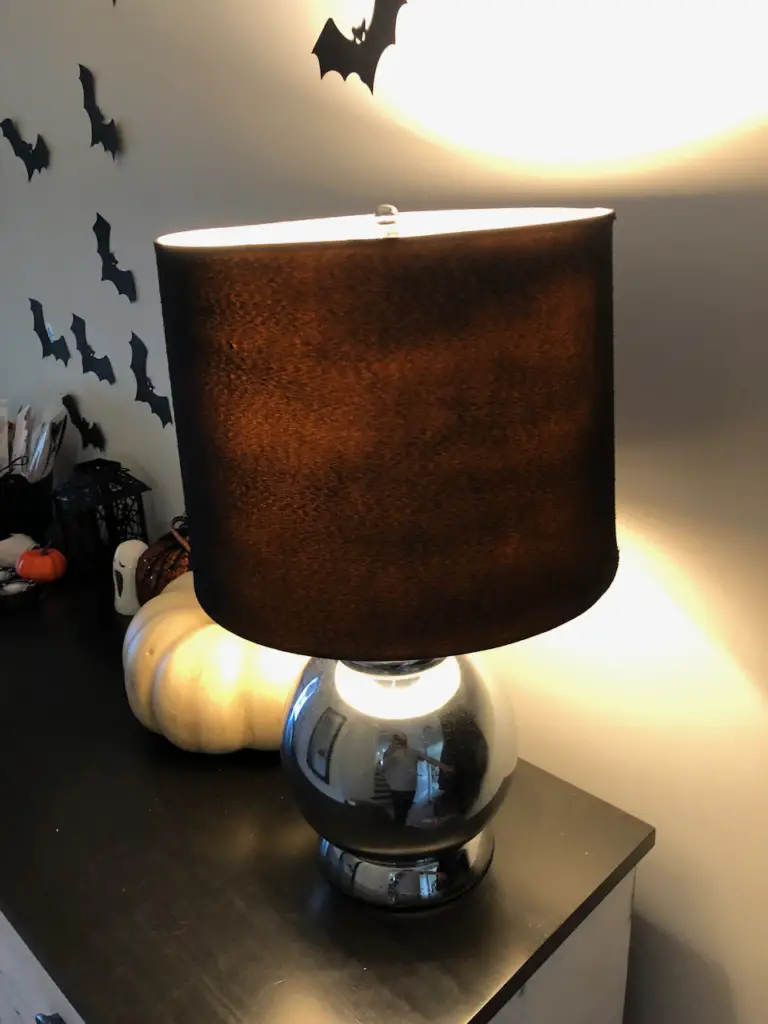 Im my case, our light sits on a table at our front door. It doesn't need to produce a lot of light as we use it more for ambience. So I chose to paint the inside and outside. You'll see in the photos below, when I left the inside white, more light shines through the shade, as well as reflecting from it, however, once both sides were painted, light no longer penetrated through the shade.
Techniques for eliminating overspray when spray painting a lamp shade
Assuming you do not want to paint the inside of your shade, the easiest way to get a solid outer coat and no paint on the inside is to place something on the top of your shade. I used a piece of scrap plywood for the bottom and 12×12″ ceramic tile (left over from another project). Next I set the tile on top of the shade, then painted several thin coats around the outside.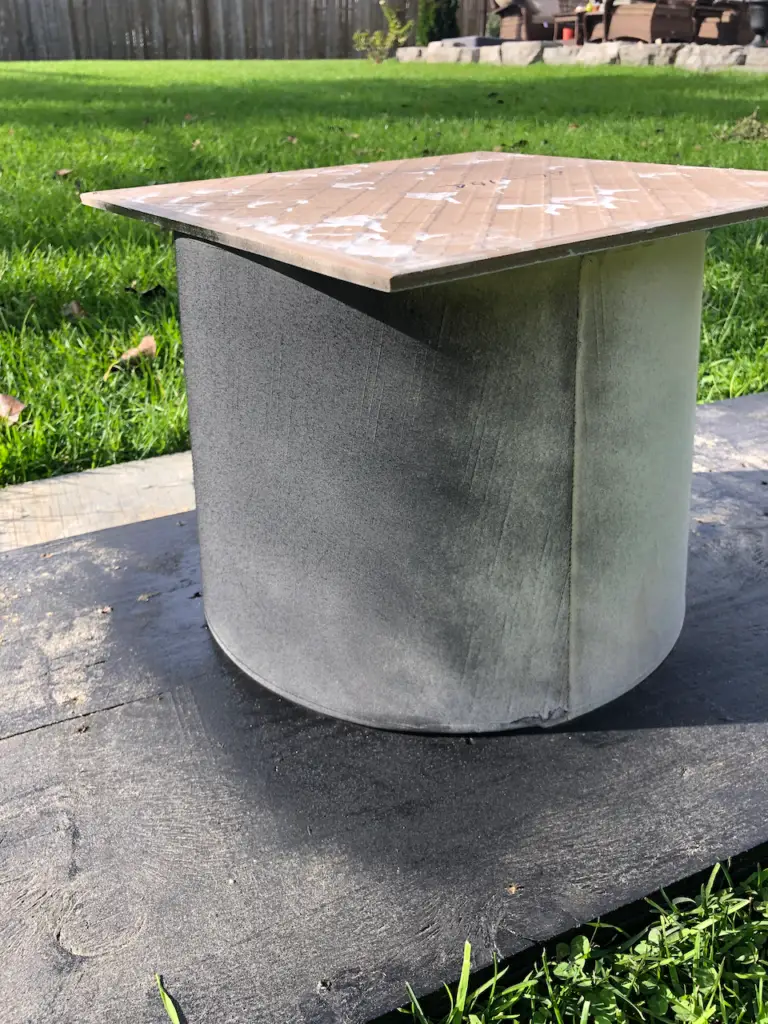 Once I removed the tile on top, I had a nice sharp line where my black paint finished, and the white fabric on the inside started.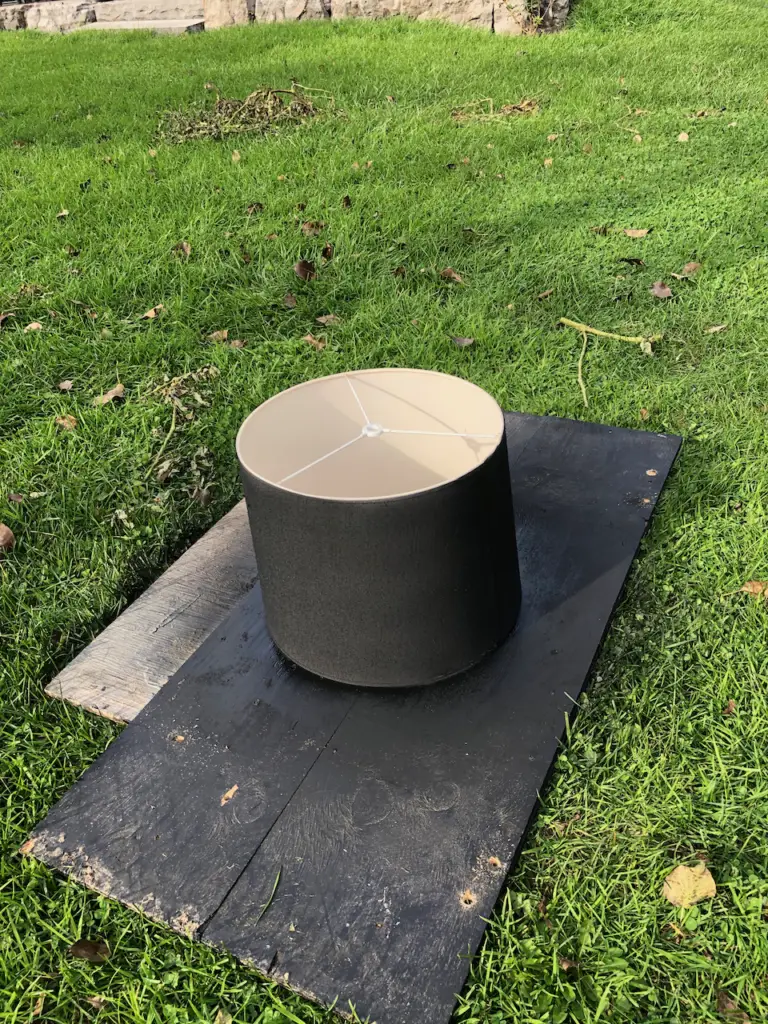 The result of my Lamp Shade Spray Paint Up-Cycle project
The final product looks beautiful. It took about 5 thin coats to get this result. 3 coats of black paint on the outside and 2 on the inside. The fabric sucks up the paint so thats why it took an extra couple coats.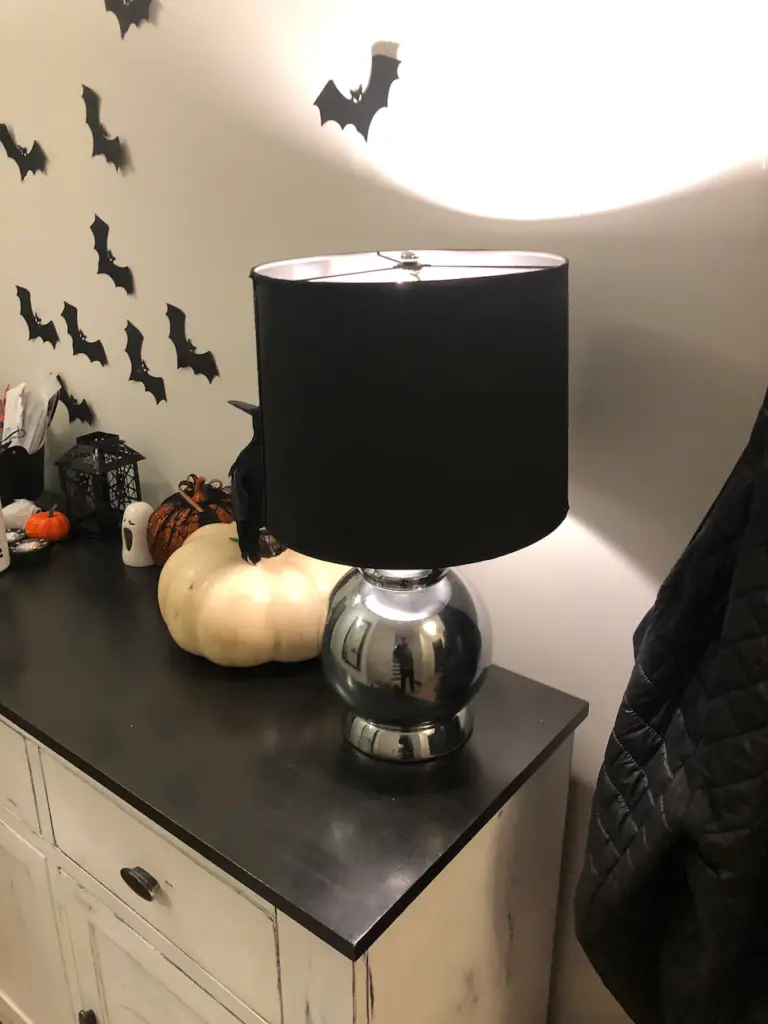 Let me know what you think, and what you're spray painting next 🙂 and if you liked this you'll probably love my article on Spray Painting my old Patio umbrella, or this sweet refresh I did on our old rusty porch light.
If you're shopping for Spray Paint, Amazon always has great deals too.