Making your own plug in outdoor lighting is pretty easy. Check out this outdoor DIY Chandelier made out of an old lamp shade is pretty simple, and why not. It seems like there is no shortage of old broken lamp shades; new ones are expensive, and all the fancy outdoor lighting is stupid expensive.
Solution: DIY Chandelier using an old lamp shade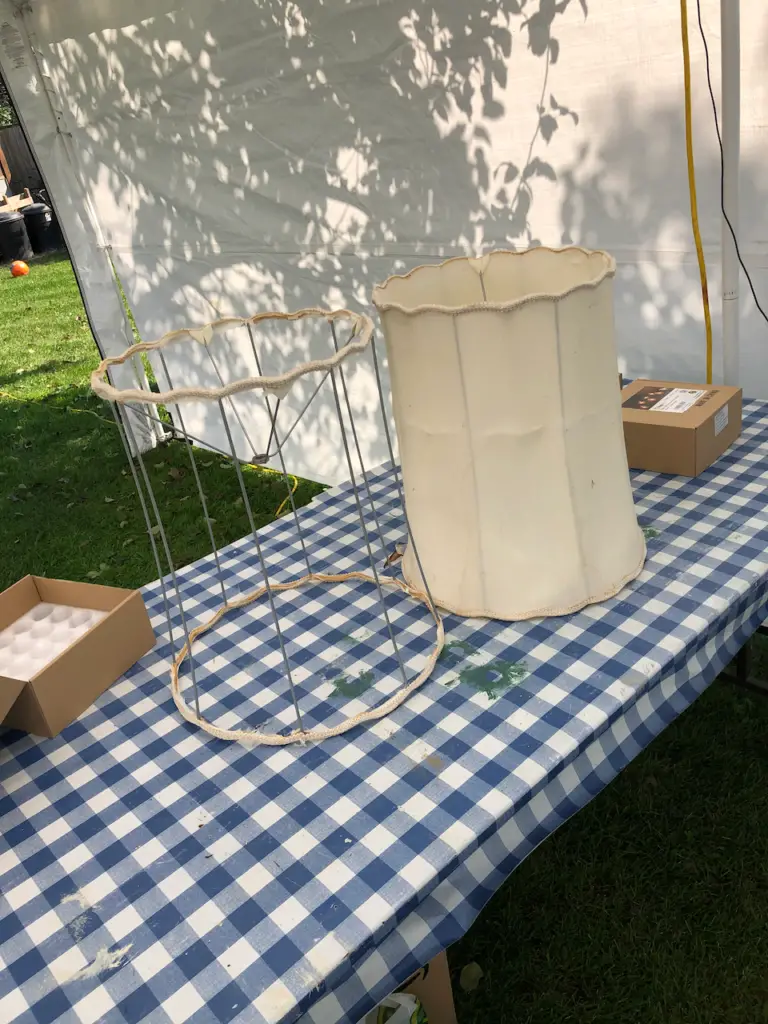 Ready for another super simple outdoor living DIY? I really loved this one. I started off with these giant lamp shades that had seen better days. These old shades were actually wrapped in Silk, which stood the test of time for decades, but eventually even Silk gets thin, and rips easily.
Did you know the predecessor to the Chandelier was the Candelabra? They date back to medieval times. The Chandelier has come along way since then. Great history on Wikipedia about Chandeliers.
Rather than toss these beauties, I had a great plan for them. We have a large tent we use for outdoor entertaining, but when the sun goes down it gets pretty dark. I've used rope lights to brighten it up in the past, but the bright white light kinda ruined the atmosphere.
My solution was to turn these giant old shades into chandeliers that. I could hang inside my tent. I don't want to ruin the surprise, but they are FANTASTIC!!
Materials:
Old lamp shades (or cheap new ones if you can find them)
Christmas lights with clips (I used G40 string lights from Amazon)
Building an outdoor Chandelier is fairly easy. First start by removing all the old shade material. Use a knife or scissors if required. I left the fancy lace treatment around the top and bottom of my shades, because I liked the look, but its not required.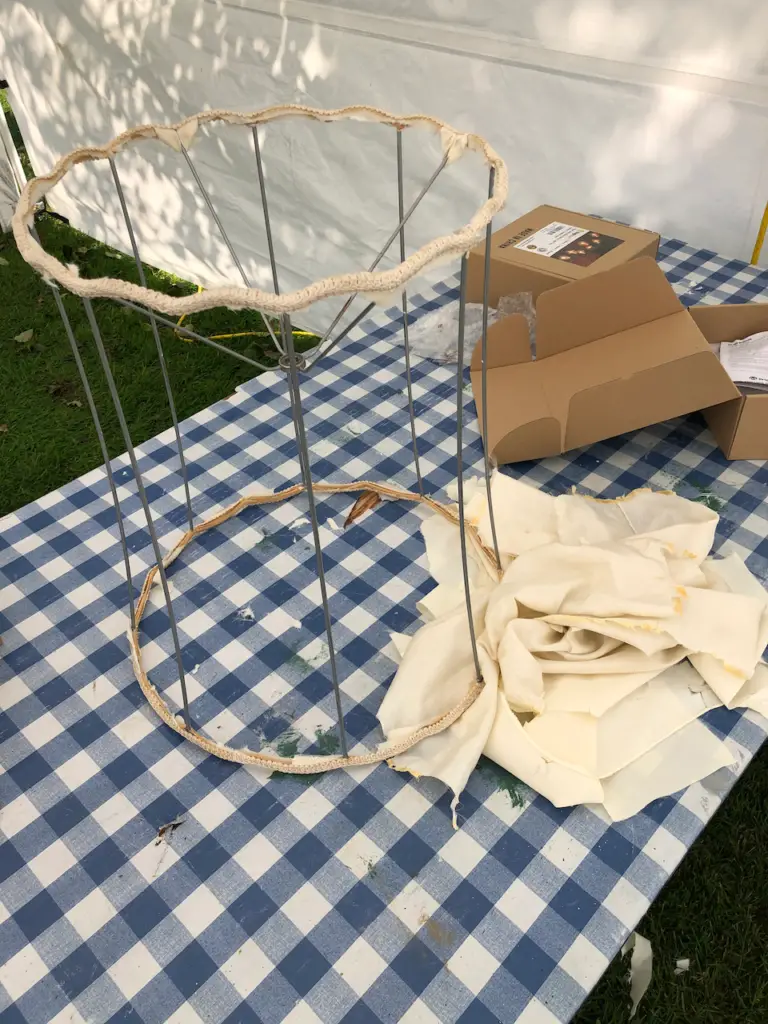 Once you've removed the old shade material, decide how you are going to hang your shade. I used the mount in the center that would attach to the light fixture. That part will be the top.
Add your Plug in Outdoor Lighting
Start wrapping the lights of your choice lights around the shade. You can see we chose these G40 traditional incandescent bulbs, but there are lots of plastic and LED plug in outdoor lights that also look great. To install your lights, clip them onto the metal frame as you go. Be creative, you can keep the spacing all the same, or random. Either way will look great. In fact I did one of each.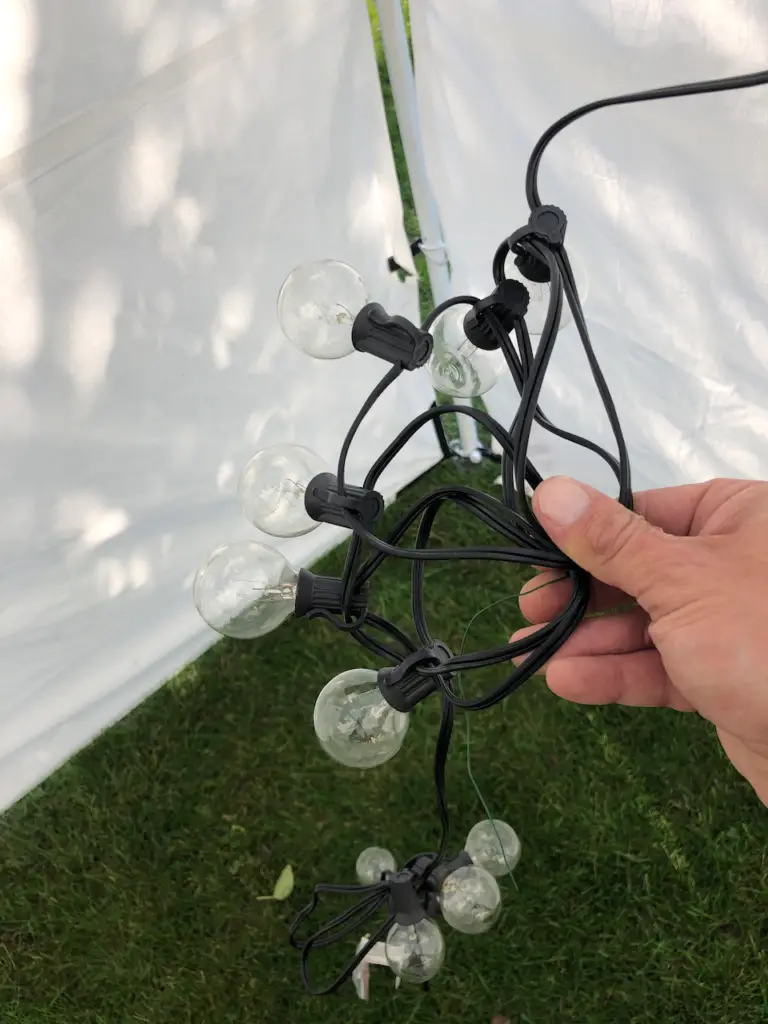 Try to leave the male end of the plug sticking out at the top (this just makes it easier to plug in and hang).
Simple Outdoor Chandelier
There you have it. A beautiful and simple outdoor lighting solution for around $20. Compare that to the cost of pretty much any outdoor light and you're saving close to $100. Wow!!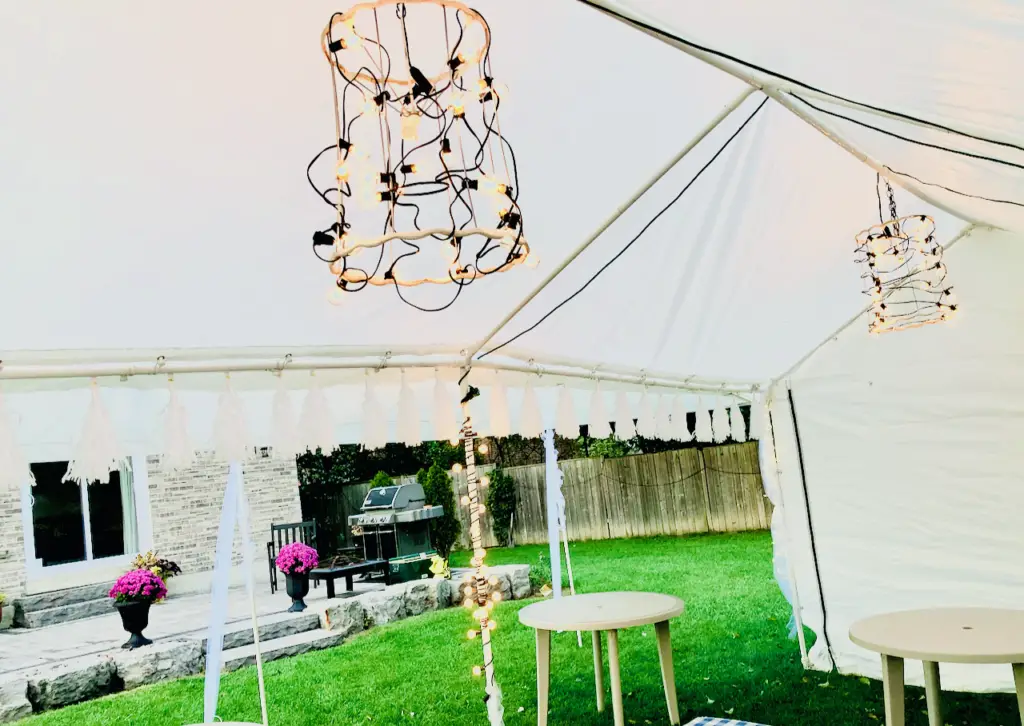 Got old broken lampshades lying around? Check out this post on fixing and painting them.
If you love DIY like I do, I have a ton of great posts for you here 🙂 Unfortunately I do not have any DIY lampshade posts, but I'd love to make one. Check out these great inspirational designs.