One of the most cost-effective and satisfying backyard jobs I've taken on so far is definitely "pressure washing" the wooden fence with our power washer.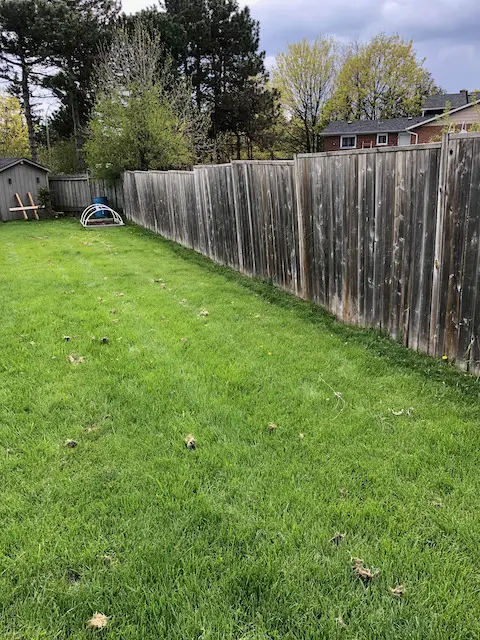 We'll cover pressure washers themselves in a bit; I've been through a few of them and have yet to find a decent one. Anyway, we have hundreds of feet of fence, 6 feet tall, surrounding our yard. It is old and not that stable anymore, but with the cost of materials soring due to COVID-19, there is zero chance we'll be replacing it any time soon.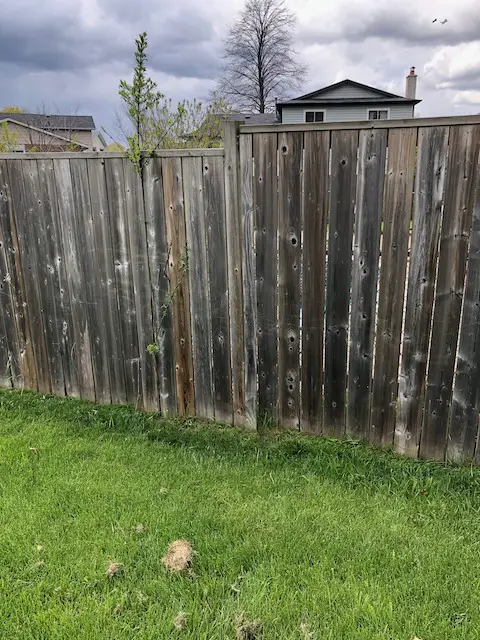 Cleaning the wooden fence with a power washer
In the meantime, we thought we'd clean it up a bit. as you can see, it's old and dingy looking. This fence is about 10 years old and made of pressure-treated 2×4 and 1×6 fence boards. The sun only hits this section for a few hours a day, so it gets this green mossy stuff on the wood. The other side of the yard looks more like a weathered barn board since the sun hits it all day.
There is literally no preparation required for this job, except in my case, finding the hose attachment for the pressure washer.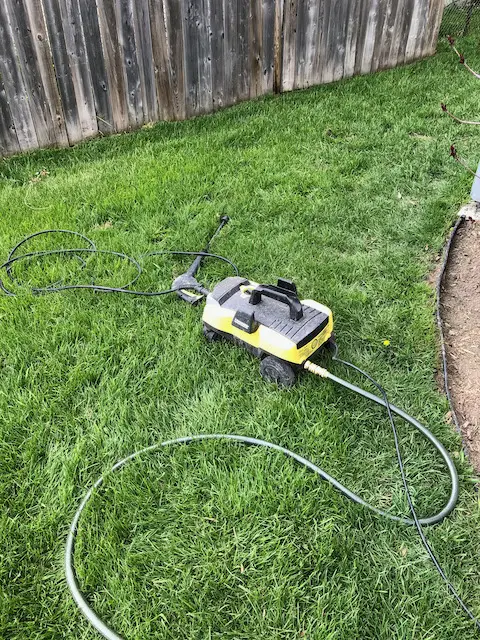 The rest of the job is pretty straightforward, but I'll offer some tips below.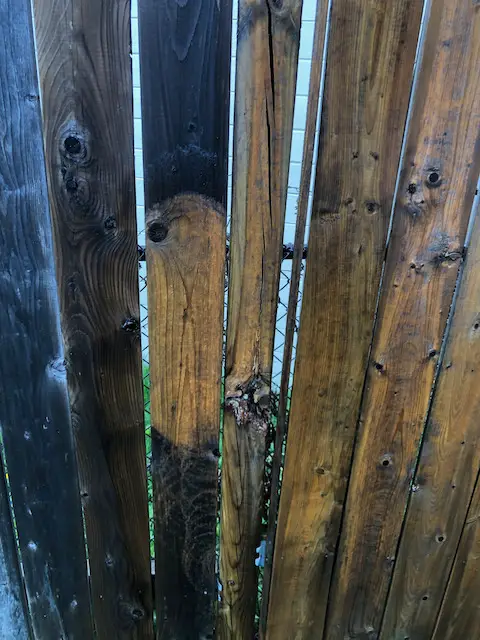 Pressure washer sprayer types for use on wooden fences
Using my oscillating wand, I started in the bottom corner and worked across, board by board to the next post, about an 8′ section. Keeping this particular spray wand 6 to 8 inches away worked best for most of the panels. A few spots needed a little extra motivation. If you look close at the photo you can see the swirl lines from the pressure washer this is from spraying too close.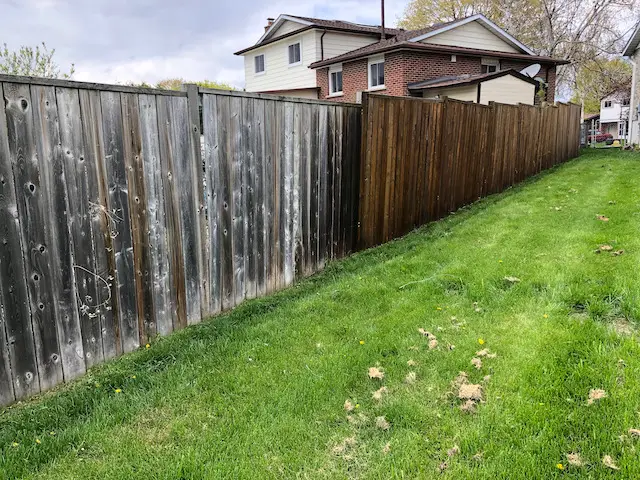 I stopped every few boards to step back and make sure they were all coming out relatively the same.
The whole job took a few hours, but it's very satisfying and somewhat hypnotic. Time kinda flew; hah!
1) if you have a fan-type spray tip, start with that. The smaller the stream, the more damage you can do to the wood. I do not have one of these tips, so I had to use the oscillating wand. It spins around and shoots a compressed stream. I found if I got too close, it would start to rip up the wood.
2) clean with the grain of the wood. This makes it less noticeable than going across the boards, leaving a clean line against the grain.
3) don't be afraid to leave some behind. Even a light clean will take a layer of age and grime off. Some spots may never come completely clean, so gradually work with the grain leaving a natural appearance.
4) stop and let it dry. Try a small section first, and wait for it to completely dry. It will dry a lot lighter. This will give you an idea of how much time you need to invest in it to get the desired outcome. as a bonus, it looks fantastic. Pat your self on the back and get motivated to do the rest 🙂
If you want to take this project to the next level, check out the family handyman's article on rebuilding your fence as well.
Pressure Washers the Good Bad and Ugly:
The pressure washer I used is made by Kaercher. I did zero research on it when I bought it. It replaced another one I also did zero research on. The point is, they all sucked, and now I'm actually going to do some research to find a good one.
Good: There are a few things I can tell you I like about this one. The oscillating wand is actually quite useful. This model also came with an adjustable fan tip; it broke after about a month. I do like the 4 wheels and how I can roll up and store the cord, hose and wand on the top. It keeps the cable and hose nice and contained.
Bad: I don't love the giant plug because it doesn't fit in my outdoor outlet. I need an extension cord. The pressure washer cord itself is plenty long for most jobs, though.
Bad: The soap reservoir is useless, in my opinion. I've never used it, and if you use anything other than what Kaercher recommends, it voids the warranty.
Ugly: Another thing to note is the manufacturer's warranty on this model is useless unless the motor goes. Everything else is covered by a limited warranty of 90 days, including the wand, handle and trigger. I imagine this is the same for most brands, though.
Hope you liked this backyard Pressure Washing Wooden Fence cleanup project. Check out more DIY's here, and our home improvement projects here
We also publish our content on hometalk and we LOVE Pinterest