Backyard Ice Rink Lighting
One of the best parts of having a backyard rink is that you can use it whenever you want, except at night, unless you have awesome Backyard Ice Rink Lighting.
Check out these amazing lighting solutions for the backyard rink. Lighting up the surface of the ice for hockey or pleasure skating can be pretty cost-effective using LED WorkLights. One thing to look out for when planning your lighting is to not mount the lights too low. You want to light up the ice from above so the lights aren't blinding the skaters.
These lights are great because of the hook on the top. If you have trees nearby you can hang these lights up high enough that they won't be shining at eye level.
Backyard Ice Rink Lighting Ideas
Getting ready to build your Backyard rink?
Check out our review of the top rink liners we found on Amazon. We've used a few, but would confidently recommend any one of these for a rink liner.
Use String Lights for your ODR – Outdoor rink
Though not as bright, it may be easier to use string lights to light up your backyard skating rink. These ones are commercial grade, and can be suspended, so you can hang them from further away from your rink if you have the height.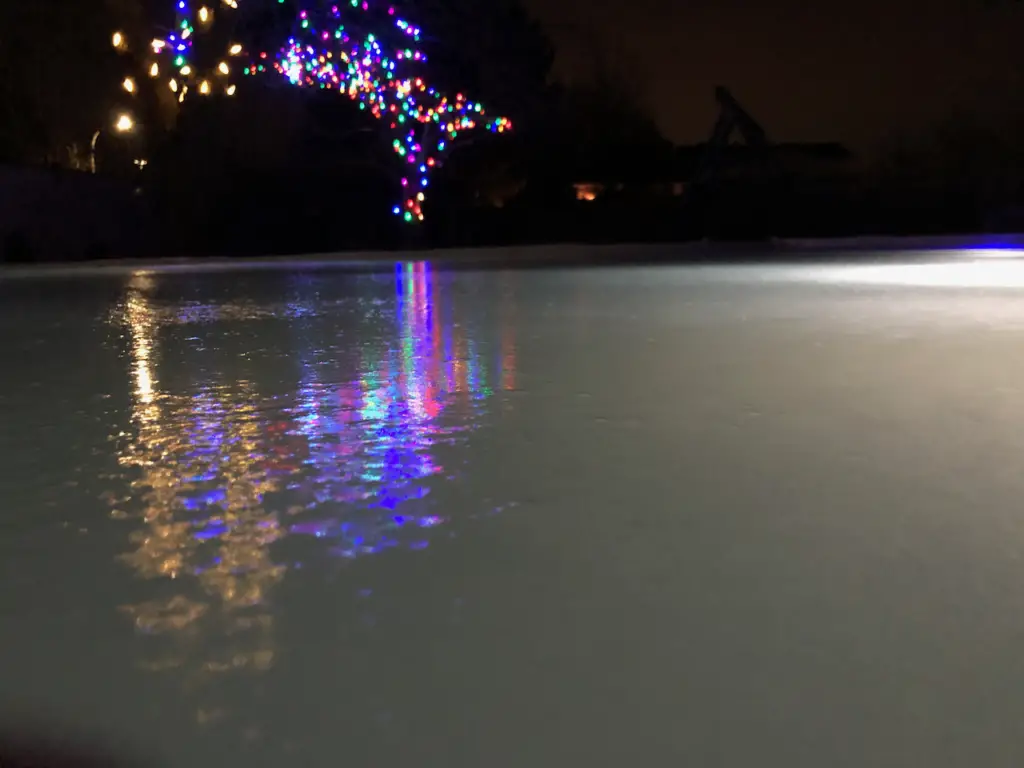 We have trees beside our rink, so I string up our extra Christmas lights around them. It provides enough light for pleasure skating, but for hockey, spotlights like the ones above are better.
Another option is to light up the ice from underneath. In the picture below, I ran LED rope lights under the plastic I used to make these rinks. The light was adequate for skating at night, but for hockey, it would require some additional spotlights. For a rink this size, it was a little small for hockey anyway.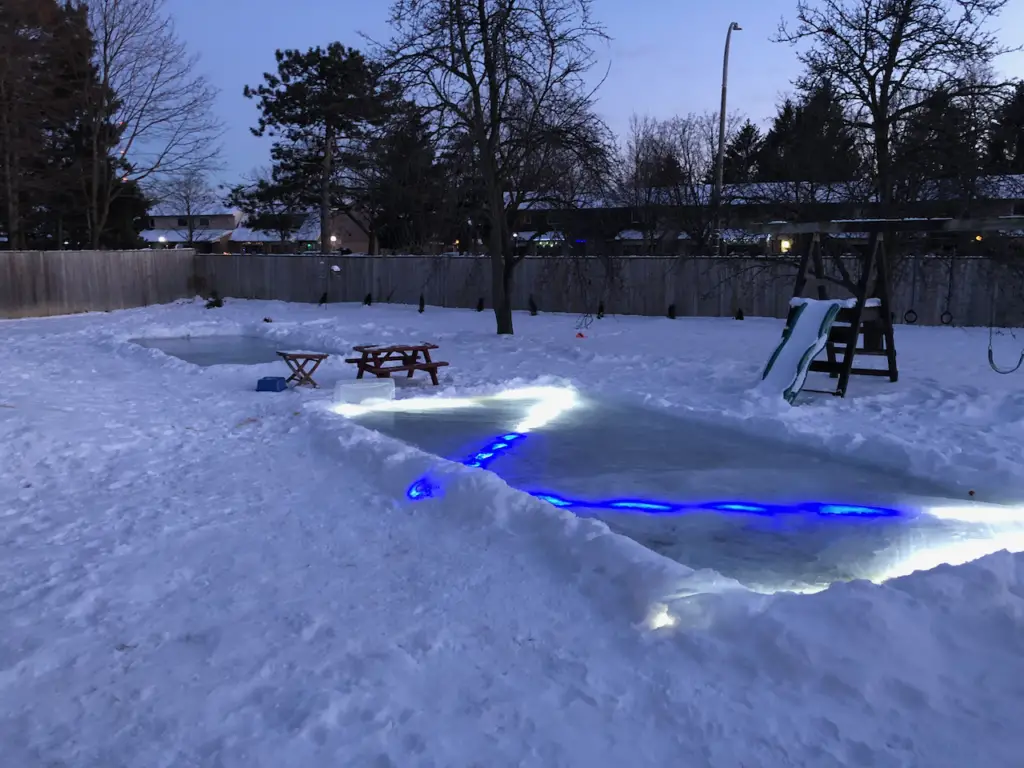 Since I made these rinks there are a ton of new LED Rope lights that are available that would make a backyard rink even more fun. In the picture below, I used a white liner and ran LED rope lights under the liner. White lights up the ice nicely. The blue isn't as bright, but it looks great.
Next year I will probably be using something like these ones. they come on 66 and 132′ lengths, are waterproof, and remote-controlled, so I don't need to run out to the shed to turn them on 🙂
Here is another set from AliExpress. These ones would be perfect if you're not in a rush and want a ton of lights.
Hopefully, these ideas will help you choose the best lights for your backyard ice rink. Check back as we update this post with our newest rink, currently under construction. See some of our past rinks here and get some great tips on how to build a backyard ice rink.
See more inspiring Ice Rink ideas on our pinterest board.
https://www.pinterest.ca/AugDecHome/backyard-ice-rink/