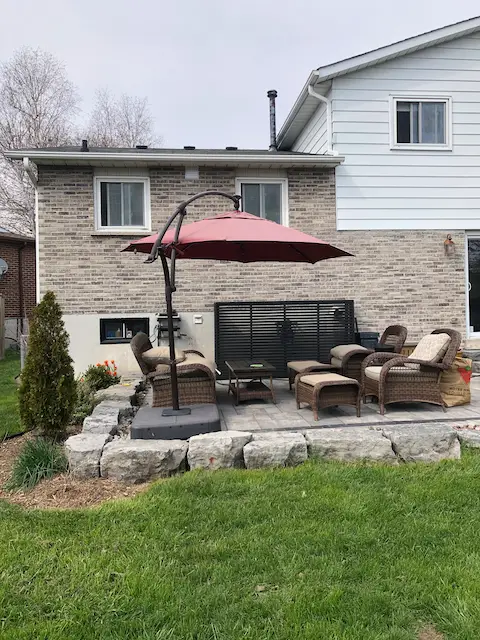 Can you spray paint outdoor fabrics? What, paint for umbrellas? Let's Kick Some Colour Back Into Your Patio Umbrella With This Super Simple DIY project.
Your patio umbrella probably sucks! Did you know there is paint for Umbrellas?
Mine did, and I didn't really care. I just accepted that it's old and ugly and I can leave it or replace it with new fabric, which didn't seem too thrilling. That was until I saw this awesome DIY with the same faded 11 foot Solar Umbrella. I considered trying to fabric paint our outdoor umbrella, but this looked way easier.
Can you Spray Paint an Umbrella?
As you can see from my before photo, we have a suspended-style umbrella. I checked Amazon for suitable replacement fabrics, and I found these great replacements for patio/cafe-style umbrellas, from BELLRINO DECOR.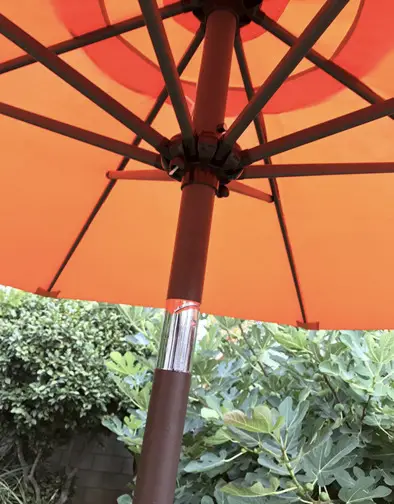 They come in diameters of 7.5 feet to 10+ and accommodate various rib counts. I would see if there is a suitable replacement here first. Repainting will cost around the same. Unfortunately, I couldn't find a suitable replacement, and I really wanted to try this spraypaint hack.
What kind of paint for umbrellas? Can you even spray paint outdoor fabrics? You sure can.
I went with 3 cans of Rustoleum Painters Touch Apple Red Spray paint in a satin finish.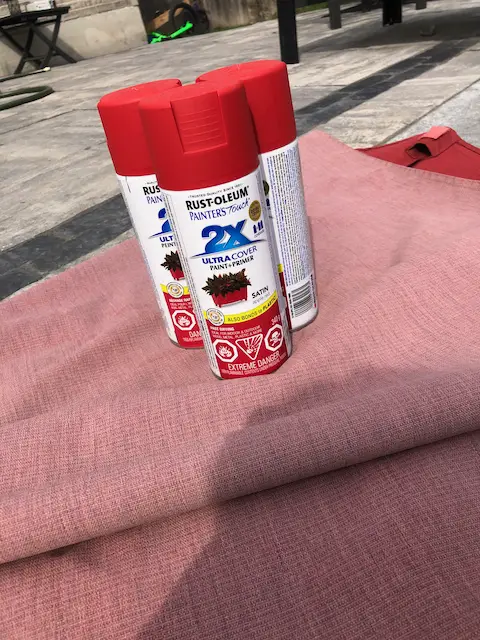 The next challenge was taking the umbrella fabric off the frame. This was surprisingly easy by opening up a hook and loop flap and pulling it like taking off a sock.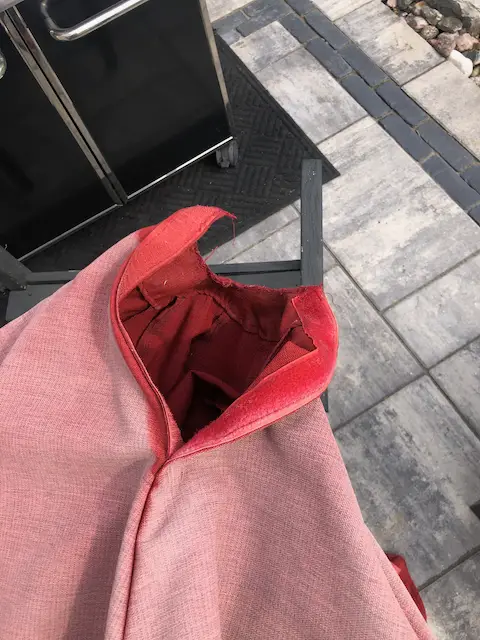 Ideally, you want a warm day with little to no wind for painting with aerosol cans to get the best yield and coverage.
Now, in the video, they repainted everything, but my frame was still looking pretty good, and some Armor All will fix the base; I really just wanted to punch some colour back into the umbrella itself.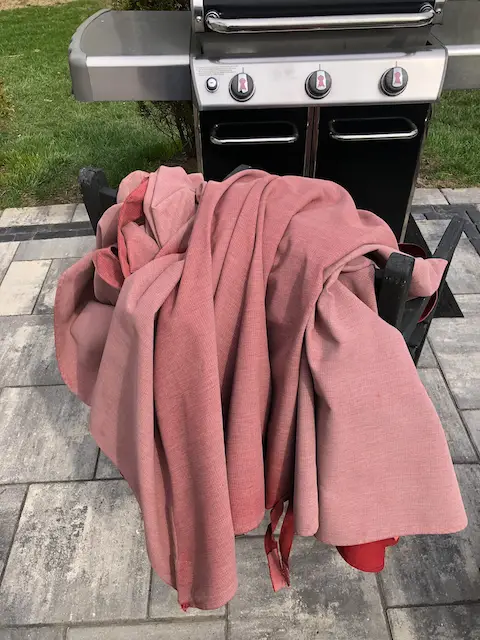 As far as preparation goes, I literally did nothing. Well, I wiped off some bird crap, but that's it. Spread it out on the lawn and got ready to paint.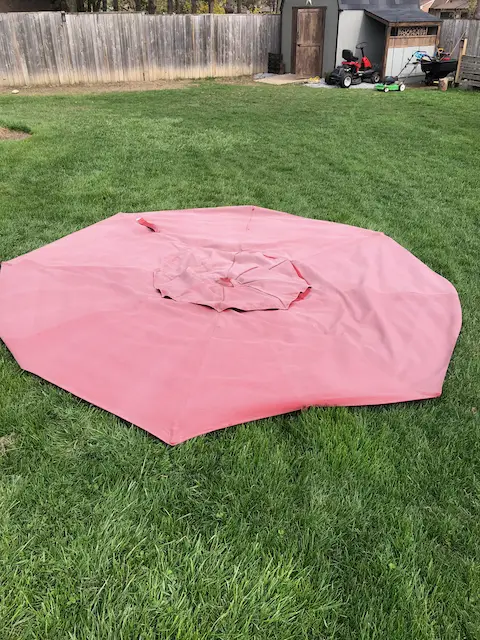 Can 1 of Rust-Oleum 2x covered about 1/3 of the umbrella. There was a light breeze which did affect the coverage a bit.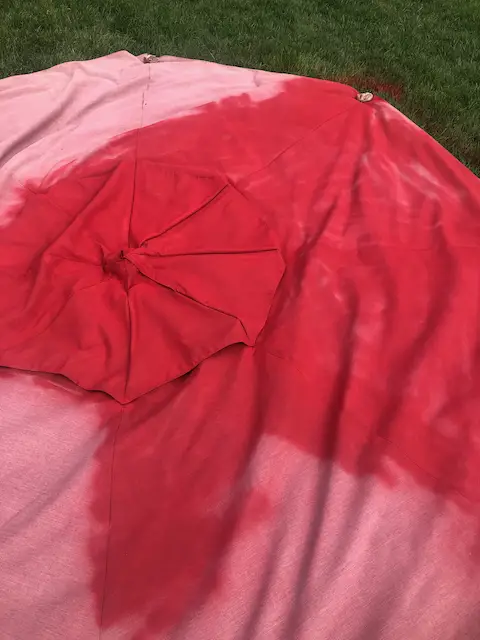 After 2 cans I had most of the umbrella at least partially covered, and it looked like I may need more than the 3 cans.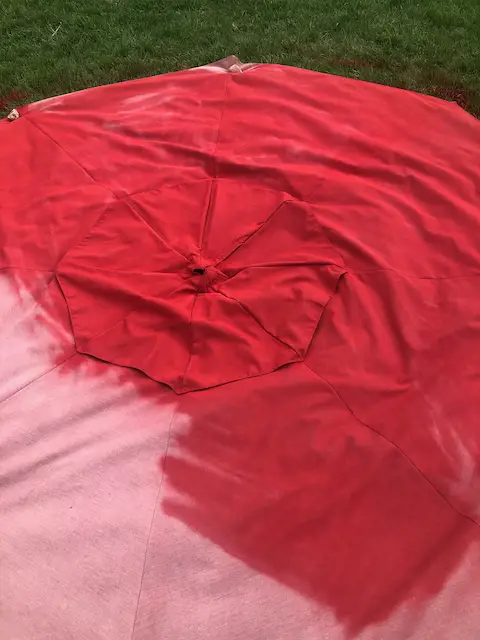 But, 3 cans down and I was pretty happy with the results. Some spots are a little thin, but its a huge improvement, and un noticable when the umbrella is up anyway.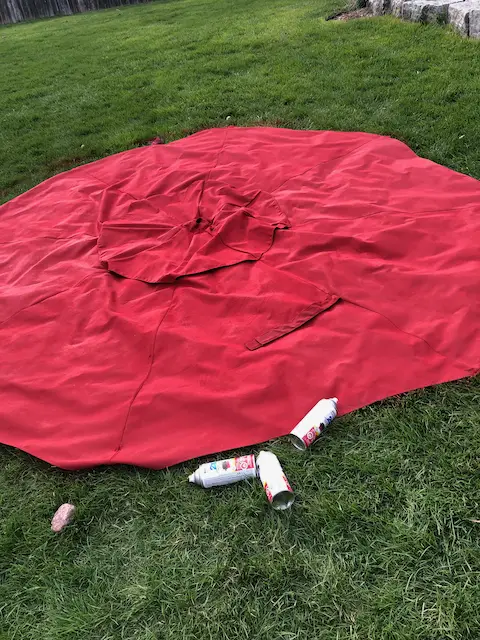 It takes 3 cans of Rust-Oleum to spray paint an Umbrella
The colour is a perfect match too. Almost identical to the original, so the inside matches well.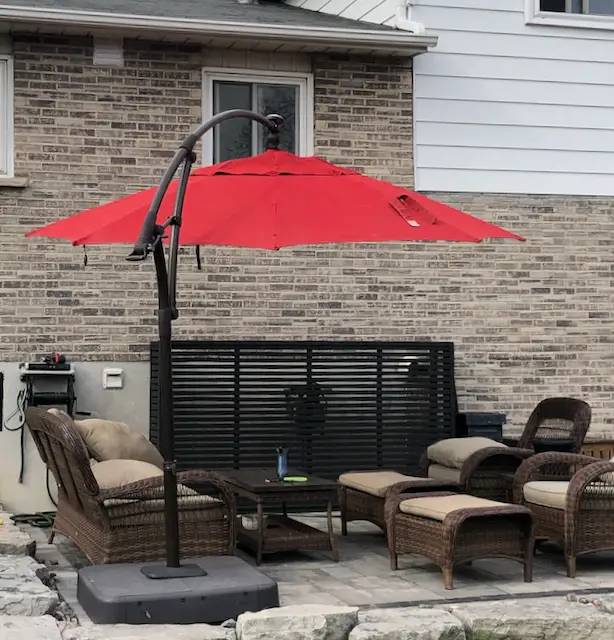 There you have it. You can spray-paint your umbrella and other outdoor fabrics, and it will be awesome!!
This is a quick and cost-effective way to spruce up your backyard or garden. Putting some love into your home outdoor living area is also a great way to boost your property value, and make your outdoor living space more enjoyable at the same time. Here is a great article from the SUN on backyard makeovers.
Painting Outdoor Furniture Cushions
Maybe you're thinking of giving those outdoor cushions a make-over as well. I'd recommend reading Carrie's from Lovelyetc's, post on painting outdoor fabrics. Carrie does a great job covering the how-to's as well as the pros and cons of painting outdoor fabrics.
Hope you loved this DIY, and spray painting! Its bad-ass!!
Check out more DIY's here.
Can you Spray Paint Outdoor Fabric?
The outdoor fabric can be spray painted with appropriate aerosol paint, but there are some things to consider. Patio umbrellas, for example, look great painted, but you don't sit on them. Fabric cushions, on the other hand, will feel "Scratchy" and will likely wear quicker. But it's still an affordable way to extend their lives and worth it, in my opinion.
What Kind of Paint do you use on Outdoor Fabric?
Aerosol paints specifically for fabric. There are many brands available now. Traditional fabric paints can also be used but should be sprayed or covered with a waterproofing treatment. Waterproof fabric paints are available as well, although more pricy.
Here is a great rundown on all things related to fabric painting, from the spruce.
Can you use Regular Spray Paint on Outdoor Cushions?