The Farmhouse Chair
I wanted to finish this Farmhouse Chair in Dixie Belle Paint Dixie for a while. Dixie Belle is a product we haven't had the chance to try yet, so we're excited to see how it goes.
Here is our antique Farmhouse chair, as found about 4 years ago. It lived in a few rooms before making its way into the project barn for an overhaul.
There it is, I love our charming old farmhouse chair. It's pretty beat up. I think I paid $5 for it years ago. When I picked it up it was in pieces. All the spindles have been glued back in place, and a few broken ones were repaired over the years. I'm happy to finally pull this beauty out and get to work on our latest Dixie Bell Paint project.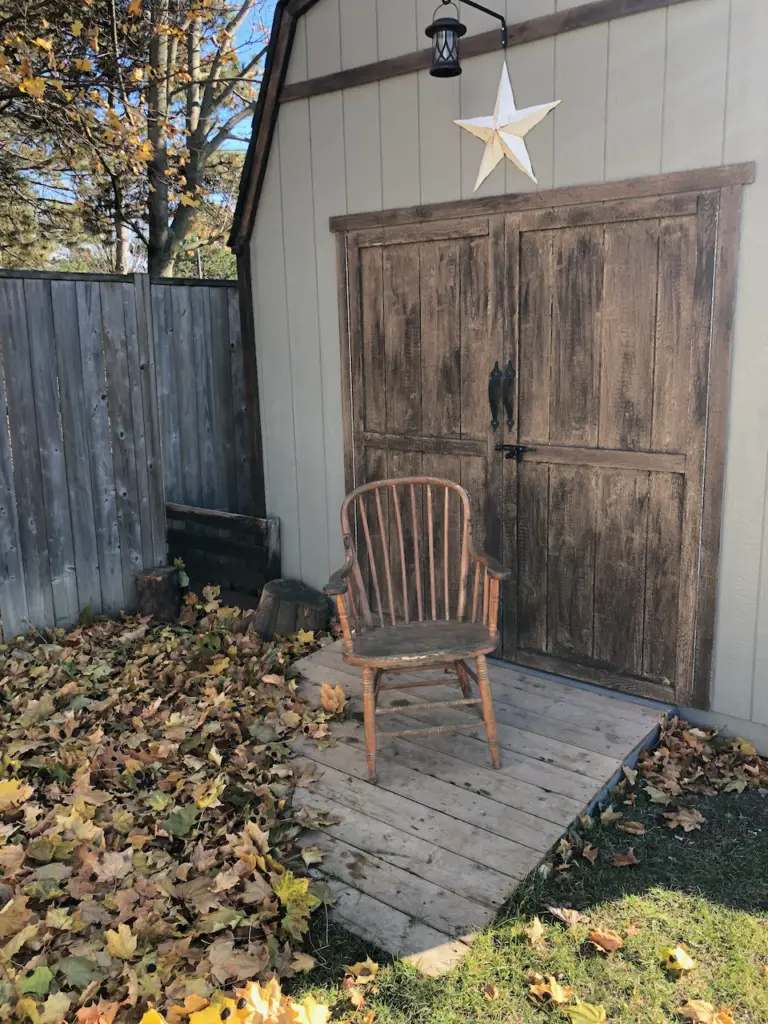 Green Farmhouse Chair – Inspiration Pieces
Here are a few chairs we really like. I don't use much green, but I love how well green suits these great farmhouse pieces.
---

---
More Inspiration from our Pinterest board
https://www.pinterest.ca/AugDecHome/antique-green-farmhouse-chairs-and-tables/
I love this bold yellow chair that Kathy at PetticoatJUNKtion did as well.
Dixie Belle Paint Colours
I had no idea how many different green paints are available. I counted 13 and managed to settle on Palmetto Chalk Mineral Paint. I'll be adding an aged patina to the chair as well, so to accomplish that, I'll be using a thin layer of wonderful Drop cloth white color
If you're new to chalk painting check out our article on Chalk Painting here
I really like the dark wood and patina look from the inspiration pieces above, but I have a long way to go to make this one similar. The wood is very worn, with lots of cracks, and a hard break in the top corner. I'm going to leave that for rustic appeal.
Preparation for paint
I used a medium grit sanding block to smooth out the surface and remove any wax and dirt buildup and any loose wood. This chair was pretty beat up.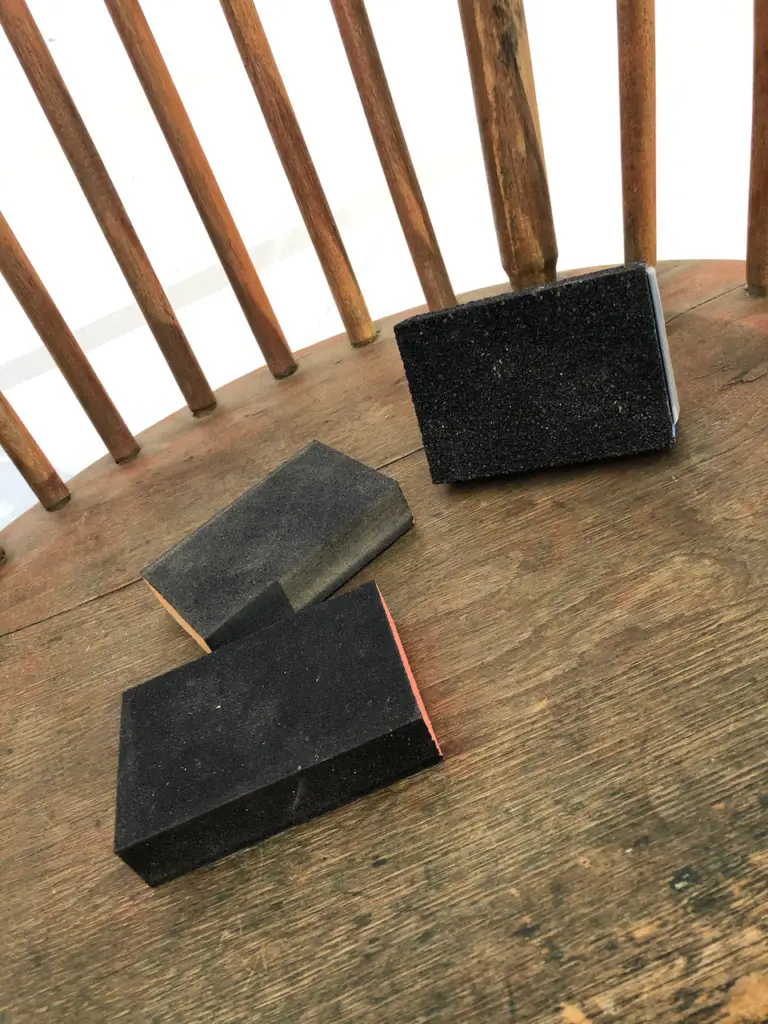 Painting Base color – Dixie Belle Drop Cloth White
The first coat is a canvas white color. This Dixie Bell paint is really thick and you almost pull it across the wood, like a dry brush technique. This first coat is more like a primer. Some of this will show through when it's complete.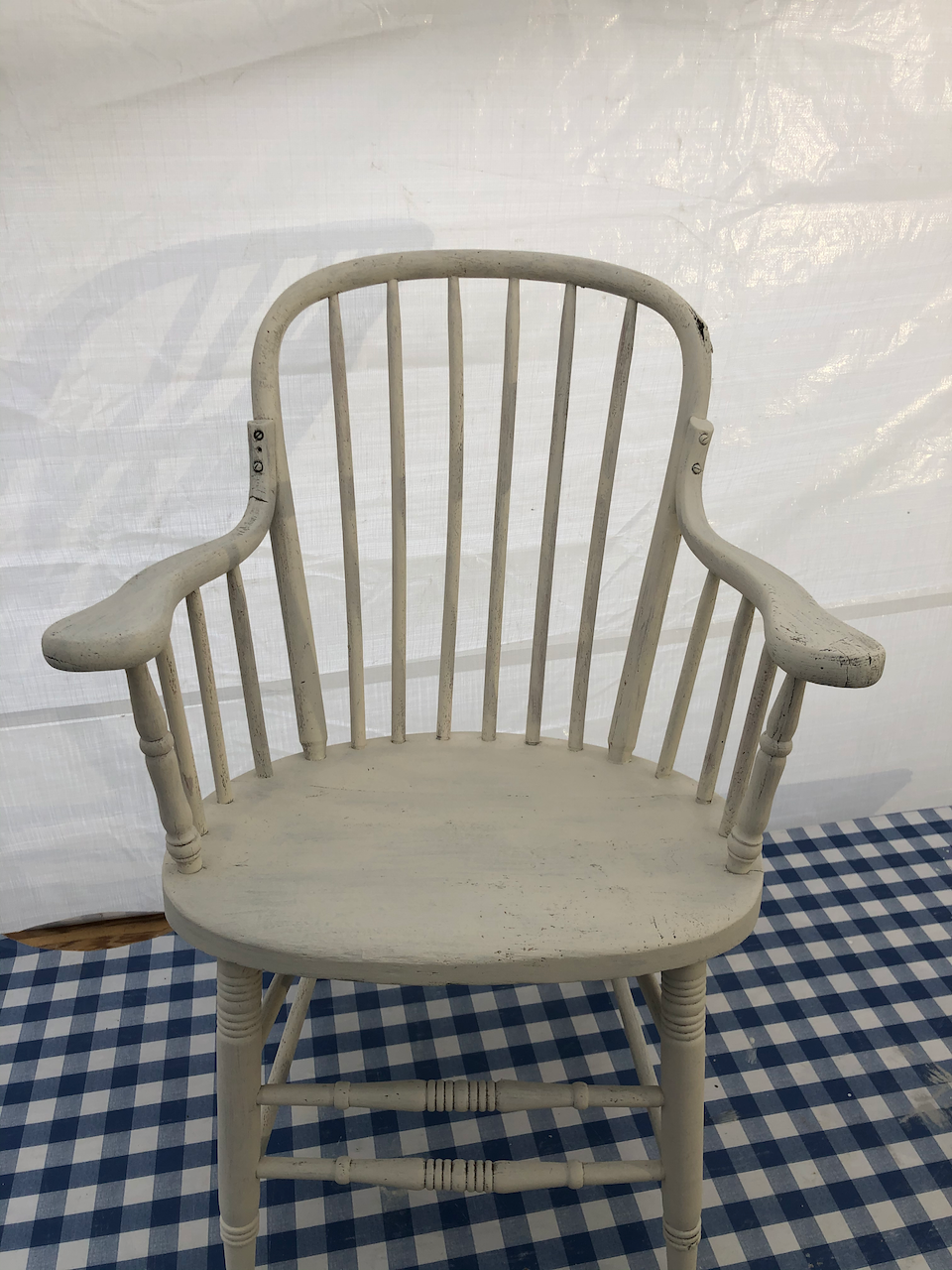 Preparation for the color coat
Like the inspiration pieces above I wanted to expose large areas of the wood, but keep a rich worn feel to the piece. To make this easier, I used petroleum jelly and rubbed it over the areas where the chair had the most wear. This will make it easier to remove the color in this area when distressing and bringing the patina into the wood.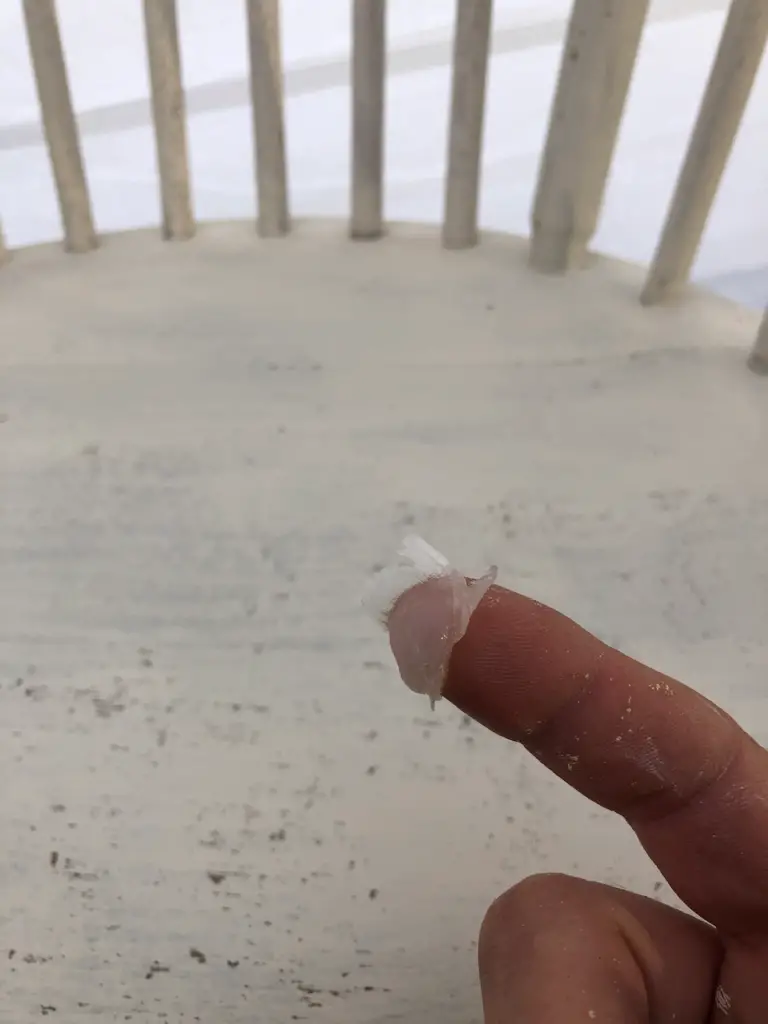 Color Application – Dixie Bell Palmetto Green
The Dixie Belle Palmetto green is like a beautiful muted forest green. Like the white, a dry brush style of painting is required.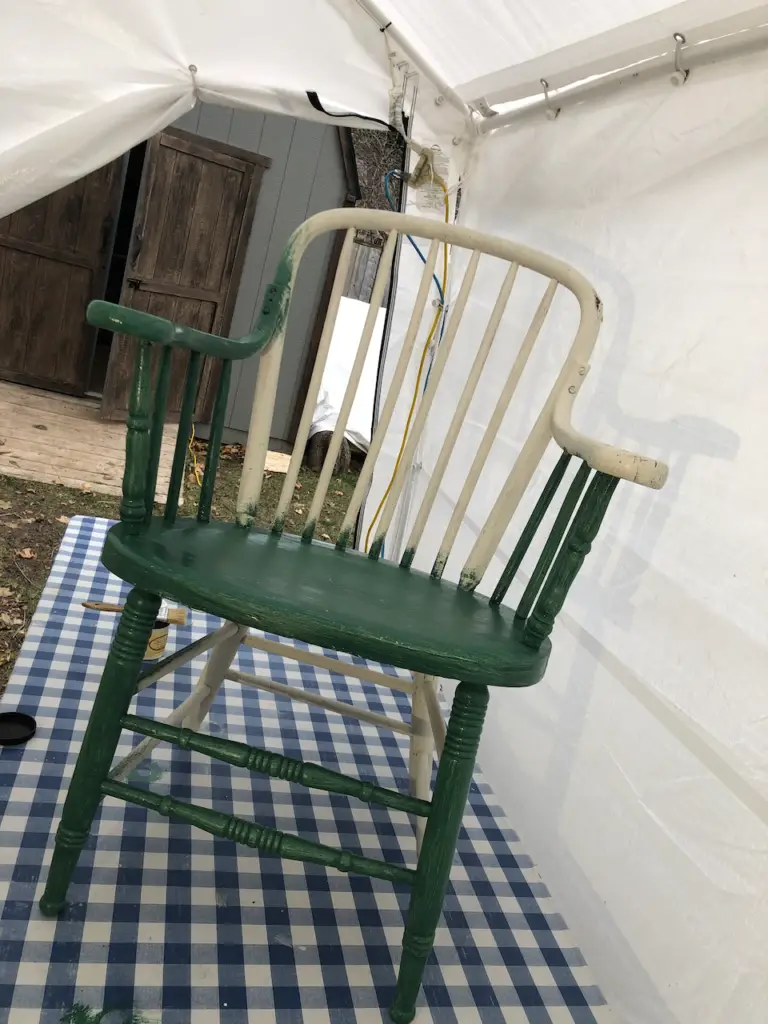 After drying I took fine-grit wet sandpaper and started to expose the wood in the areas with the heaviest wear. This followed by a scrub down with hot soapy water, to remove any paint that didn't bond where the petroleum jelly was applied.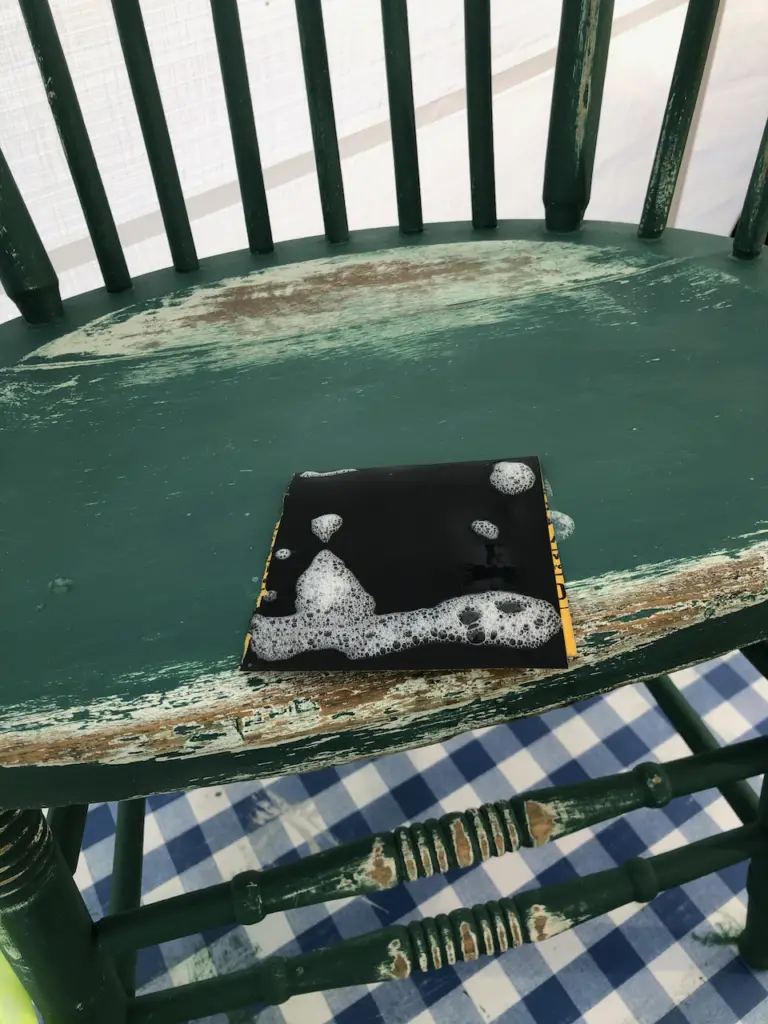 Final Finish – Wax Sealing Antique Chair
To preserve the chalk paint and provide added durability I sealed the chair in dark wax. This stuff is kind-of like shoe polish. You rub it on with a soft cloth or brush, then give it some time to dry. Then using a soft clean cloth, or work towels, start to buff all the excess wax off. you'll be able to tell how sticky it feels initially to the nice smooth shiny finish after buffing. This process was the longest, and in some areas, I sanded a bit more to expose more wood, then waxed again. The final result below. I think this farmhouse chair in dixie belle paint looks fantastic!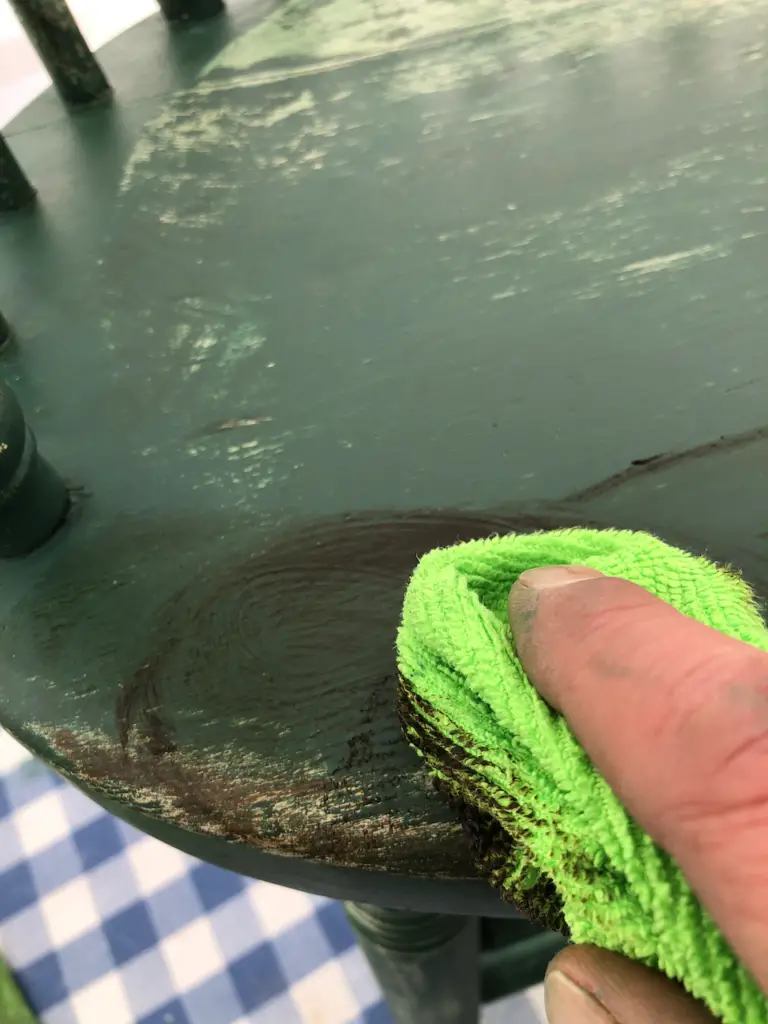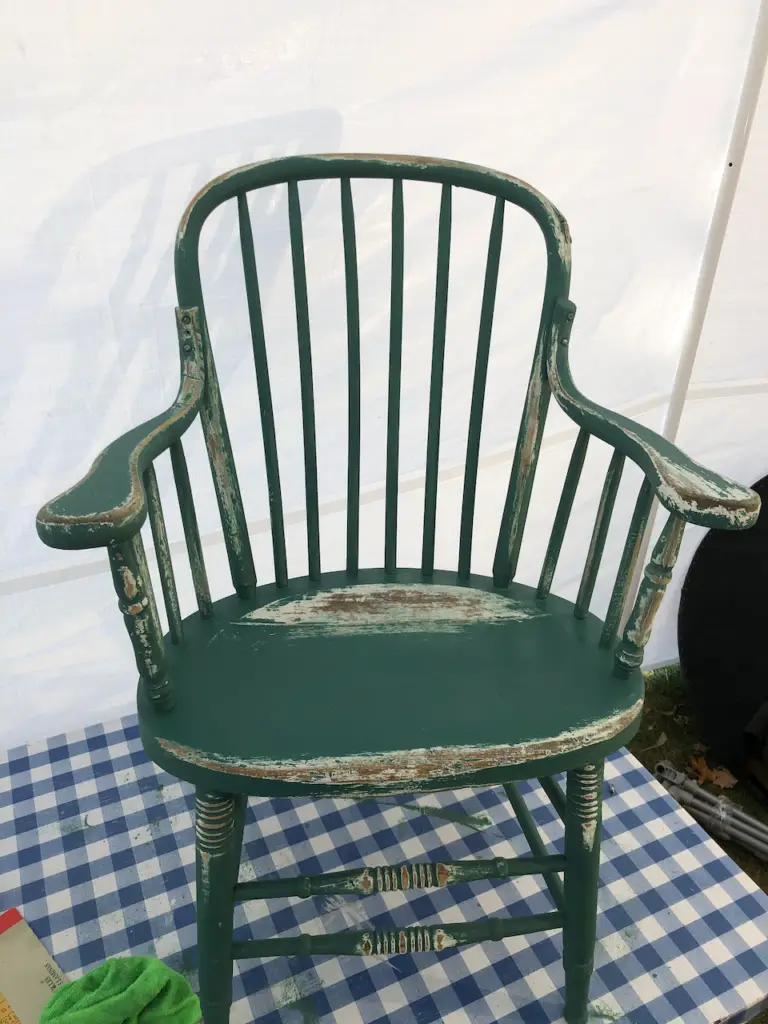 Be sure to check out our other furniture refinishing projects here.
Chalk Painting Essentials from Amazon
We'd love it if you joined our mailing list here too: